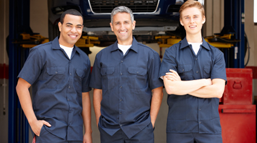 Members who hold a level of membership from Licentiate (LIMI) to Fellow (FIMI) are placed on the IMI Professional Register - the industry-wide register made up of professional individuals working in the automotive industry. Being a registered professional shows your customers and your colleagues that you are continually keeping up to date with learning, new skills and working practices.
All IMI members commit to ethical working practices by signing the IMI's Code of Conduct. You will be required to accept the Code of Conduct as a condition of membership to the IMI.
Keeping your skills and knowledge up to date is achieved through continuing professional development (CPD).  Members on the Professional Register commit to undertaking 90 credits of CPD over a three year period, the equivalent to about four days of training/development per year. The IMI can support you in keeping current and up to date with our range of automotive-specific CPD courses, specifically designed to assist you in maintaining your professional competence. IMI members can also take advantage of discounts of up to 25%.
Registered professionals also enjoy access to our CPD management system, MyCPD, where you can plan, log and track all your training and development.