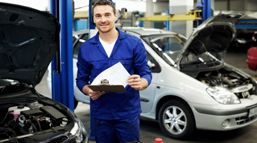 If it is felt that a member of the IMI has breached any part of the Code of Conduct and you wish to lodge an official complaint, please view the complaints procedure (linked to the right of this page).
IMI Code of Conduct
Accept the Code of Conduct as a condition of membership of the Institute of the Motor Industry
Uphold the standing of the profession and the Institute and conduct themselves in such a manner as to not bring the profession or the institute into disrepute
At all times be strictly professional in their approach to the public, business colleagues and all those whom they meet in their day-to-day business activities
Maintain professional competence and skills in respect of all developments and legislation applicable  to this profession
Perform their duties and observe their responsibilities to their employers, staff and the public with integrity, courtesy and consideration
Take all reasonable steps to ensure that work undertaken by staff under their control is performed with integrity, courtesy and consideration
Not incur personal gain through abuse of their personal position
Work within the framework of the law at all times, particularly relating to the operation of the organisation with which they are connected
Respect the confidentiality of any information given by customers, employers, staff and suppliers
Not directly, indirectly or unfairly injure the reputation of another member
Encourage staff under their control to raise their educational standards and skill through training and development (CPD). CPD is a mandatory requirement for members on the IMI Professional Register.
If you have any queries about the IMI's Code of Conduct please contact the Professional Development Team on 01992 519025.