Published:

13:43, 17 Oct 2018

Updated:

10:24, 19 Oct 2018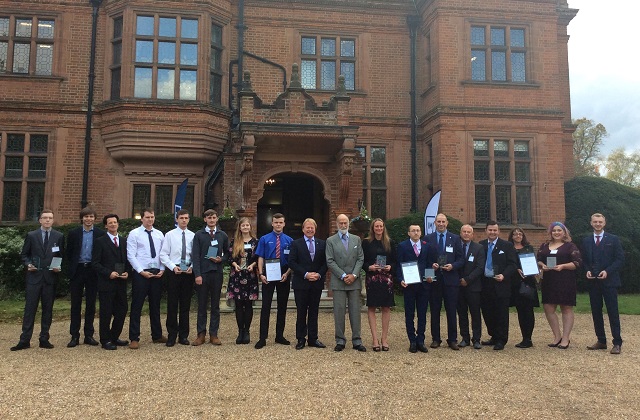 The industry's professional body today (Thursday 18th October) hosted the awards ceremony at its Headquarters in Hertfordshire where the finalists from across the UK celebrated their success. The IMI also took the time to celebrate the training staff who work tirelessly to deliver the automotive programmes, whilst providing support to their learners to ensure they have the skills to progress in their motoring career.
The IMI was also joined by its patron, His Royal Highness Prince Michael of Kent, to present the Outstanding Achievers Awards that were created to recognise the most talented students training to work in the sector.
Steve Nash, Chief Executive at the IMI, said:
"The Outstanding Achievers Awards is an important date in the IMI's calendar - it provides us with an opportunity to congratulate the people who work tirelessly to ensure the training is delivered to a world-class standard, and also the very talented learners who are just beginning their career in the industry. The IMI's centre network, made up of over 600 training providers, has dedicated staff that deliver the highest level of automotive training – the IMI's awards are a great opportunity for us to recognise these people and their best students.
"Thank you to the 2018 sponsors (Lucas-Nuelle, Elring Parts Ltd, MS MotorService International, Euro Car Parts, Remit Training, Electude, Textar Brake Technology, and the Fellowship of the Motor Industry) who have kindly supported these awards."
Brian Childs, Chairman at the FMI, said:
"The Institute of the Motor Industry, with its' pivotal role in the motor industry's training and awards arena, was the obvious partner to develop and action this special project.
"This year sees the third year of the Fellowship's Bursary Award, with a handsome sum presented to support the further studies of an outstanding apprentice; someone who, it is felt, will be a beacon of achievement for fellow students and a future leader of our industry.
"Members of the Fellowship can justly feel proud of the important industry support they provide from the fruits of their attendance at Fellowship events.  That they are having fun and meeting friends as part of that support is just, as our transatlantic cousins sometimes say, 'Pure gravy!'"
Full list of winners and finalists:
Approved Centre of the Year: North Humberside Motor Trades
Specialist Centre of the Year: Nationwide Technical Training and Professional Development Academy
Outstanding Student in…
Light Vehicle winner: Lee Collins from Volvo
- Finalists: John Honey – Motorvation Training
Heavy vehicle winner: Daniel Rayfield – Skillnet LTD
- Finalist: Luke Thoel – Skillnet LTD
Paint winner and FMI Bursary winner: Joseph Brown – Communication Specialist College Doncaster
Body winner: Dominic Leach – BMW/Babcock Training Academy UK 
Land-Based winner: John Higgins – KMG (Komatsu Mining Germany)
Bus and Coach winner: Josey Robinson – Skillnet
Non-Technical winner: Ashleigh Bain – Remit Scotland
Young Student of the Year: Courtney McElhinney – Torquay Academy
Outstanding Achievement in Accreditation (Technical): Paul Tookey from Nationwide Just Car Clinic
Outstanding Achievement in Accreditation (Management): Helen Price from Johnsons Cars Ltd
IMI's Special Recognition Award: John Honey – Motorvation Training Ltd
FMI Bursary Winner: Joseph Brown
Media enquiries
For media enquiries please contact:
Wendy Harrison,
HSL | Managing Director
Email: wendy@harrisonsadler.com
Tel: +44 (0) 2089 779 132
Mob: +44 (0) 7850 372 469