Published:

09:59, 18 Oct 2017

Updated:

11:59, 18 Oct 2017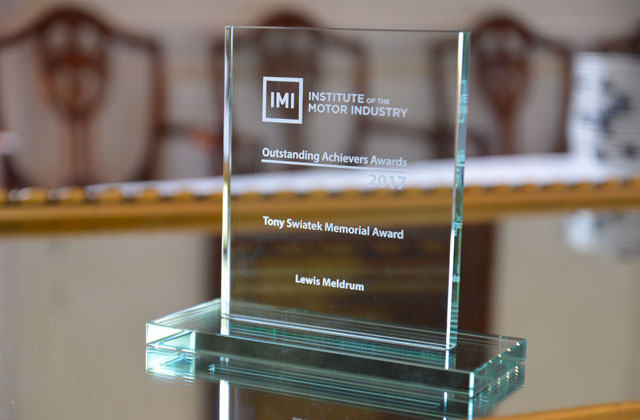 The industry's professional body today (Tuesday 17th October) hosted its annual awards ceremony at its Headquarters in Hertfordshire where the finalists from across the UK celebrated their success. The IMI also took the time to recognise and congratulate the training staff who work incredibly hard to support and deliver training programmes that give these outstanding learners the best start to their motoring career.
The IMI was also joined by its patron, His Royal Highness Prince Michael of Kent, to present the Outstanding Achievers Awards that were created to single-out the most talented apprentices training to work in the sector.
Steve Nash, Chief Executive at the IMI, said:
"The Outstanding Achievers Awards is an important date in the IMI's calendar because it provides us with an opportunity to congratulate first-hand people who are working and training in our industry. The IMI has over 600 training centres in the UK with around 60 more internationally and without their dedicated staff delivering our qualifications and training to such a high standard we wouldn't be able to provide the sector with the much-needed young talent that it requires.
"Thank you to the 2017 sponsors (Lucas-Nuelle, Elring Parts Ltd, MS MotorService International, Euro Car Parts, Remit Training, the Swiatek Family, and the FMI) who have supported these awards, plus provided our finalists with some gifts that will support their careers."
Full list of winners and finalists:
Approved Centre of the Year: Bridgwater and Taunton College
Specialist Centre of the Year: Nationwide
Outstanding Student in…
Light Vehicle winner: Tibor Ovari from Edinburgh College
Finalists: John Ashford from City College Plymouth, and Lewis Meldrum from Jaguar Land Rover
Heavy vehicle winner: Shaun Richards from Skillnet Scania
Finalist: Rory Whelan from Skillnet Scania
Paint winner: Toby Diggins from Babcock Training (BMW)
Body winner: Reece Punter from NCRC Nottingham
Fast-Fit: Kimberly Locker from Kwik-Fit
Non-Technical winner: Jack Wenn from Emtec College
Young Student of the Year: Jamie Wilson from Motorvation Training Ltd
Outstanding Achievement in Accreditation (Technical): Richard Prior from Nationwide Just Car Clinic
Outstanding Achievement in Accreditation (Management): Lee Baty from Laird Assessors
Tony Swiatek Memorial Award winner: Lewis Meldrum from Jaguar Land Rover
Media enquiries
For media enquiries please contact:
Wendy Harrison,
HSL | Managing Director
Email: wendy@harrisonsadler.com
Tel: +44 (0) 2089 779 132
Mob: +44 (0) 7850 372 469