Published:

15:40, 7 Mar 2014

Updated:

09:14, 10 Mar 2014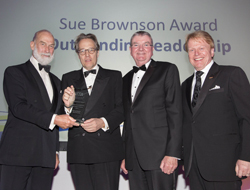 The motor industry's leading lights gathered at the IMI's prestigious Annual Dinner last night at the Grand Connaught rooms in London to celebrate excellence in the sector. The event played host to 370 industry leaders as well a number of celebrities including BBC F1 presenter and face of the IMI's Professional Register, Suzi Perry and Olympic rower and Gold medallist Mark Hunter.
The event featured the presentation of the inaugural Sue Brownson Award to Lord Charles March, who accepted the award in person on the night. Created in memory of the late Sue Brownson's outstanding contribution to the automotive retail industry and designed to recognise individuals in the sector who have demonstrated 'oustanding leadership', it was Lord March's work creating the now iconic Goodwood Festival of Speed and Goodwood Revival that earned him the accolade.
The IMI's annual Skillmiles awards were also presented by HRH Prince Michael of Kent at the event. Skillmiles recognise businesses and individuals who contribute hours of work and company resource to help push the skills agenda and work with the IMI to drive positive change in the sector. This year's winners included Jaguar Land Rover, Kwik Fit, Würth UK, GTG Training and Derby College.
The IMI's recent work developing automotive skills in Malaysia was also highlighted through the awarding of two IMI honorary Fellowships to Dato Samson Anand George, Chief Operating Officer of the Naza Group and Dato Sri Ben Yeoh, Chief Operating Officer of Bermaz Motors. They join a select group of just 25 honorary fellows of the IMI thanks to their impeccable credentials, as both leaders of industry and developers of people in the Malaysian Motor Industry.
Dato Samson Anand George and Dato Sri Ben Yeoh have both received the coveted "Automotive Man of the Year" award in Malaysia, in 2012 and 2013 respectively.
Speaking at the event, IMI CEO Steve Nash commented:
"This year's IMI Dinner gave the industry a chance to remember one of our truly inspiring figureheads, Sue Brownson, and her contribution to our industry. It was therefore fitting that we marked her sad passing with an Award in her name, given for those who shine brightest and showcase just what a great industry this is to work in.
"Awarding the Sue Brownson award to Lord March was a unanimous decision by the Board -Lord Charles March put the UK back on the motoring map, when he launched the hugely popular Goodwood Festival of Speed and Goodwood Revival events, which take place on his family's estate in rural Sussex. More than two decades since he first came up with the idea, and thanks to his continued inspiration and leadership, Goodwood is an internationally recognized centre of motoring excellence and marks two key events on the world motor sports calendar.
We believe the selection of Lord March for the inaugural Sue Brownson Award sets the benchmark for future winners.   He is a worthy winner and one I'm sure Sue would have approved of."
The IMI 2014 Dinner was kindly sponsored by Amco, Chapman HR Consulting, Continuum Insurance Brokers, IMI Awards, RAC Business, S&B Automotive Academy, Skillnet and Taylor & Emmet.
Notes to Editors
2014 IMI SkillMiles winners
Vehicle Manufacturer                                   Jaguar Land Rover        Dr Adrian Burch                                          
Large Automotive Retail Business                 Kwik Fit GB Ltd              Paul Binks             
Support Organisation                                    Würth UK                       Neil Jenner     
Members Association                                   Derby College MA        Matthew Curtis     
Training Provider                                            GTG Training                  John Douglas                    
 
About Sue Brownson
Former President of the IMI, Sue Brownson, died in May 2013, leaving the whole industry mourning the loss of one of its great figureheads. A stalwart of the BMW brand for decades, Sue had also been a fellow of the Institute of the Motor Industry (IMI) since 1996 and became its President in 2012. Sue devoted her working life to the motor industry and the encouragement of small businesses, where she dedicated almost 40 years of service, mostly as Group Managing Director at Blue Bell BMW.
In 1999 she was appointed to the board of the Motor Industry Training Council, was elected President of the National Franchised Dealer Association and President of industry charity BEN. Her positions and interests included being a Master of the City of London for the Worshipful Company of Coachmakers and Coach Harnessmakers and Vice Chairman of the Royal Automobile Club. In 1997 her considerable contributions to the retail motor industry were publicly recognised when she was awarded an OBE.
Media enquiries
For media enquiries please contact:
Wendy Harrison,
HSL | Managing Director
Email: wendy@harrisonsadler.com
Tel: +44 (0) 2089 779 132
Mob: +44 (0) 7850 372 469