Published:

09:36, 1 Jun 2015

Updated:

09:38, 1 Jun 2015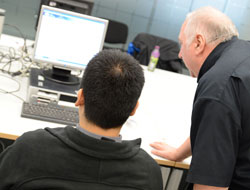 The IMI's new eLearning resources for students studying Body Repair, Paint and MET received a strong vote of confidence from over 100 training providers, who attended the events.  The platform uses a blend of multimedia learning styles, such as video, voiceover and photographs to enhance study opportunities for students and make the classroom learning experience more interactive.
The IMI visited five locations around the UK to demonstrate the new system, receiving feedback suggesting the resources are set to make a significant contribution to body repair and paint related apprenticeship training. Comments received included:
"The resources open the door to good teaching ideas – making our job much easier and more effective."
"Extremely informative and ideal for future eLearning in my industry as a remote/field technician."
"Help at last and very learner led – I would love to get onboard."
Explaining the resources, IMI eLearning Development Manager Tom Denton commented:
"The new resources are designed to support students through the majority of their apprenticeship, including functional skills requirements. The technical learning materials cover accident repair topics such as chassis alignment, metal work, surface preparation and trim. Paint topics include equipment, preparation and paint application. Additional modules are set to be added over time until all areas of the curriculum are covered from Entry Level 1 to Level 3.
Nothing like this has been available to students until now. We believe these resources will go a long way to ensuring current training in vehicle body repair and paint related professions is up-to-date and fit for purpose in the modern industry. The body repair sector has been through a tough time recently. Ensuring that fresh talent entering the industry has received the best possible training is a vital ingredient in creating a successful and profitable future."
Visit www.theimi.org.uk/elearning or contact the eLearning team at elearning@theimi.org.uk for additional information.
Media enquiries
For media enquiries please contact:
Wendy Harrison,
HSL | Managing Director
Email: wendy@harrisonsadler.com
Tel: +44 (0) 2089 779 132
Mob: +44 (0) 7850 372 469