Published:

14:34, 13 May 2019

Updated:

12:37, 13 Jun 2019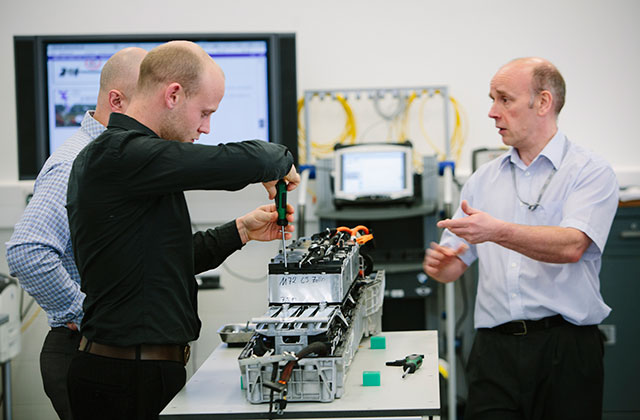 With a clear focus on the next steps in the development of the Electrified Vehicle Professional Standards championed by the IMI, the meeting set out to formalise the EV Professional Standard. This will give technicians an easy way to certify their EV competence through the IMI TechSafe banner.
The first meeting, in February, highlighted the need for registration of technicians and the IMI's role, working in collaboration with the government, with advice from the Health and Safety Executive. As a result of that meeting, the IMI proposed an EV Professional Standard model, centred on EV qualifications, IMI accreditation, accredited training, professional behaviours and a commitment to CPD over a three-year cycle.
The objective of the second meeting was to agree the appropriate CPD and training standards to form part of the model. The attendees deliberated on the operational aspects of the EV Professional Standard and agreed on the components of the EV Professional Standard.
Steve Nash, CEO of the IMI said: "Our second Electrified Vehicles Advisory Group meeting gave industry experts a valuable opportunity to comment on and shape the future of the safety and best practice standards for this growing sector. Collaboration is crucial to ensure standards are fit for purpose and, as the industry's professional body, we feel we have a crucial role in developing EV Professional Standards that benefit everyone.
"We understand the challenges employers are facing when it comes to ensuring staff are properly trained and qualified to work on electric vehicles, which pose a significant safety risk. The EV Professional Standard is a significant step forward for the sector and we look forward to hosting further meetings in the months to come, working together to develop standards that evolve with the technology and meet the needs of the motor retail industry."
Media enquiries
For media enquiries please contact:
Wendy Harrison,
HSL | Managing Director
Email: wendy@harrisonsadler.com
Tel: +44 (0) 2089 779 132
Mob: +44 (0) 7850 372 469