Published:

12:47, 30 Sep 2016

Updated:

16:35, 5 Oct 2016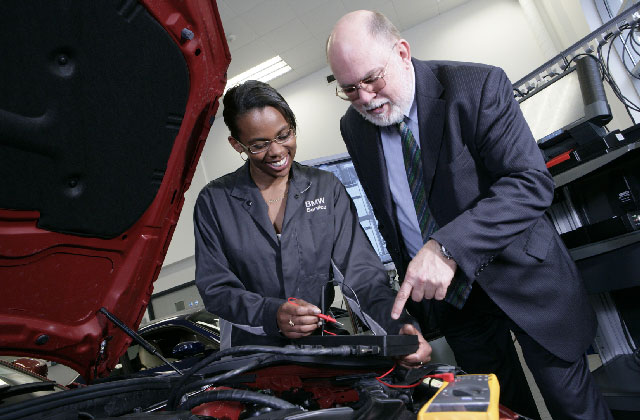 The Department for Education and Skills published proposals in August that would cut state funding for some vocational training courses for 16-19 year olds by as much as 50%. Many businesses fear they won't be able to secure apprenticeship places at these new rates because the courses won't be economically viable for providers to run.
The changes, due to be confirmed in October 2016 and implemented in May 2017, come on top of the introduction of the new Apprenticeship Levy and the introduction of a new type of apprenticeship, which requires employers to take on the administrative burden, all of which businesses are struggling to understand.
Martin Porter, Head of Automotive Engineering, Highbury College, Portsmouth, speaking in the IMI magazine published today, said:
"We're working with SMEs that trying to keep their heads above water.  They don't have training or HR Departments, their role is to fix and maintain vehicles, they want others to help and support their workforce with good quality training. The proposed funding cut is just another of the 'death by a thousand cuts' that both colleges and businesses have to bear."
The IMI believes the Government's intention to cut £22bn of support for the FE sector is the main driver of the difficulties. The planned savings are inconsistent with the Governments pledge to create 3 million new apprenticeships by 2020.  
IMI CEO Steve Nash, who previously described the proposals as a "Car Crash" has written to the skills Minister Robert Halfon MP with the direct support of leading retail businesses employing thousands of people, calling for a delay in the implementation of the controversial plans.
Steve Nash said:
"The Government's apprenticeship reforms are a ticking time bomb for our industry that's worth £150 billion a year. The uncertainty around apprentice funding and provision is likely to see many employers simply not take on trainees over the next couple of years. Thousands of young people will miss out on an opportunity to build a career and our sector will lose vital skills and productivity.
"I'm urging Education Ministers to pause and learn a thing or two about what business needs before they go any further with their apprentice reforms."
Jane Russell, Director of an award winning independent business in North London Russell Automotive Centre, said:
"Anything that limits, reduces or stops apprentices being found, funded and taught well is like a nail in the coffin of the automotive industry.  
"The government needs to realise that it can't get this wrong. Having someone devise a new plan for apprenticeships in this country without any knowledge of how companies actually work is ludicrous. It's essential the industry voice is heard"
Media enquiries
For media enquiries please contact:
Wendy Harrison,
HSL | Managing Director
Email: wendy@harrisonsadler.com
Tel: +44 (0) 2089 779 132
Mob: +44 (0) 7850 372 469