Published:

10:44, 29 Apr 2016

Updated:

10:46, 4 May 2016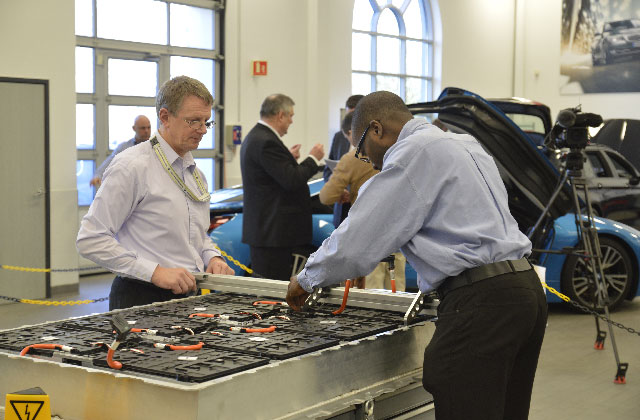 The Author of the report, Professor Jim Saker of Loughborough University, also says Government will need to spend more of the £600m; it has set aside to promote the uptake of low emission vehicles, on charging infrastructure across the whole UK. The £40 million currently allocated to just four cities is inadequate to meet air quality and emission targets, and the Chancellor's goal of every new car and van being ultra-low emission by 2040.
The report, commissioned by the Institute of the Motor Industry (IMI), ahead of this week's London Motor Show, outlines how the UK car market is experiencing dramatic changes with plug-in hybrid sales more than doubling and pure electric vehicles increasing 50% in 2015. The report points out that this growth will soon impact on small businesses that will struggle to make the investment needed to provide consumers with choice and value for money.  Professor Saker also points to a serious health and safety issue with unskilled mechanics attempting to work on machines with 600 volts coursing through them.
With over 90% of independent garages saying they would need to retrain existing technicians to undertake work on these vehicles; it's clear that unless a proactive strategy is undertaken the UK will not be able to support the growth of future car technology safely. Saker suggests the Government introduce a license to practice in order to drive investment in the necessary training and make it illegal for untrained technicians to work on electric and hybrid vehicles.
Professor Jim Saker said:
"Anyone working on these high voltage vehicles needs to be properly trained, accredited and licensed. To achieve this, our Government needs to introduce or approve a scheme similar to the one we have in place for those working on gas boilers (Gas Safe Register) and the IMI's Professional Register is a ready-made solution.  More also needs to be done to ensure that the physical infrastructure keeps pace with the rapidly increasing demand for these new technologies, which have the potential to generate a large number of jobs going forward.
"Apprenticeship recruitment in the automotive retail sector has been static in recent years.  What we're looking at now is a great opportunity to reenergise this sector by attracting more young people to work with these exciting, future oriented technologies.
As an independent commentator with many years experience and knowledge of the automotive sector I can see that we are at a crossroad; the right initiatives now, along with some appropriate investment can certainly unlock the full potential that the new technologies are capable of contributing to our economy – calculated at £51bn by 2030. However, we cannot achieve one without the other."
Steve Nash, IMI CEO, said:
"Electric, plug-in hybrid and hybrid vehicles are no longer the future, they are here now and the numbers are set to increase very rapidly over the next few years with all manufacturers broadening their product offerings. The problem is that to the uninitiated they are just another car with some new technology, when in fact they are nothing like the cars we have all been driving up to now.  
There are currently around 1,000 people qualified to work on high voltage electrics and they all work for the vehicle manufacturers, who will continue to train their own staff to meet demand. However, as the volumes of these new vehicles grow there are thousands of other technicians that will be challenged to offer that kind of service and without some sort of license requiring them to be properly trained and qualified, independent garages that make up 85% of the businesses operating in the service & repair sector will not invest in that kind of training. That means that their staff will either risk their lives working on unfamiliar systems that carry lethally high voltages, or they will simply refer everything back to the franchised dealers, reducing competition in the sector. I cannot imagine that either of those outcomes is likely to be palatable for the government"
The report, On the Road to Sustainable Growth, was presented at the Houses of Parliament to a cross-party group of MPs by Professor Jim Saker and IMI CEO Steve Nash on 13th April 2016.
- End -
Loughborough is one of the country's leading universities, with an international reputation for research that matters, excellence in teaching, strong links with industry, and unrivalled achievement in sport and its underpinning academic disciplines.
It has been awarded five stars in the independent QS Stars university rating scheme, putting it among the best universities in the world, and was named the best in the country for its student experience in the 2016 THE Student Experience Survey. Loughborough was ranked 7th in The UK Complete University Guide 2017 and was also named University of the Year in the In the What Uni Student Choice Awards 2015.
Loughborough is consistently ranked in the top twenty of UK universities in the Times Higher Education's 'table of tables' and is in the top 10 in England for research intensity. In recognition of its contribution to the sector, Loughborough has been awarded seven Queen's Anniversary Prizes.
In September 2015 the University opened an additional academic campus in London's new innovation quarter. Loughborough University London, based on the Queen Elizabeth Olympic Park, offers postgraduate and executive-level education, as well as research and enterprise opportunities.
Media enquiries
For media enquiries please contact:
Wendy Harrison,
HSL | Managing Director
Email: wendy@harrisonsadler.com
Tel: +44 (0) 2089 779 132
Mob: +44 (0) 7850 372 469