Published:

09:49, 16 Jul 2015

Updated:

09:55, 16 Jul 2015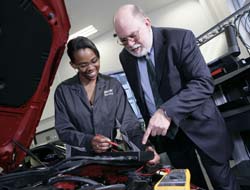 The regulation will require larger firms to publish information on the average pay of male and female employees, but this will be rolled out to smaller companies in time. The consultation closes on September 3rd and IMI is asking members to contact them urgently with their views.
Prime Minister David Cameron MP promised to eradicate pay discrimination within a generation. The pay gap between men and women currently stands at 19% but in some sectors it is much worse. According to the Office of National Statistics (ONS) in skilled manual trades the difference in pay is as great as 25%.
IMI is seeking views of members both employers and employees before formulating its response. The consultation will determine the kind of information firms have to publish and how this can be used to reduce the differential between the earnings of men and women.
IMI Head of Human Resources, Sally-Anne Hodder, said, "This consultation is a great opportunity for the IMI and the sector to engage in a conversation about equal pay and the promotion of women in the retail motor industry.
"It is widely understood that the retail motor industry needs to increase the number of women it employs in order to get the most out of the growing number of female customers. Showing the public that our sector has exciting employment opportunities and fair pay systems would go a long way to attracting more women into the industry."
Individuals and organisations can contribute to the IMI response to the Government consultation at randr@theimi.org.uk. Sally-Anne Hodder has blogged on the issue - follow the 'Sally Says' link on the right-hand side.
Media enquiries
For media enquiries please contact:
Wendy Harrison,
HSL | Managing Director
Email: wendy@harrisonsadler.com
Tel: +44 (0) 2089 779 132
Mob: +44 (0) 7850 372 469