Published:

09:19, 16 Dec 2015

Updated:

15:16, 11 Jan 2016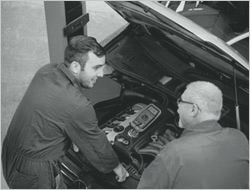 IMI, the leading awarding organisation for automotive qualifications, will be delivering new qualifications for DVSA MOT Testers and MOT Managers and continual personal development (CPD) across their network of IMI training centres. The new system will replace the DVSA scheme and will ensure all MOT Testers are trained and equipped with the necessary skills to complete a vehicle's annual MOT.
This new qualification is derived from the National Occupational Standards (NOS), and IMI are working closely with the DVSA to ensure qualifications and quality training is available to the MOT trade. This new qualification will be delivered by the extensive IMI approved training centre network providing maximum coverage across the UK.
The new qualification will be delivered in a minimum of 24 hours with at least 8 hours practical assessment required. The DVSA have also announced that all MOT Testers are required to carry out a minimum of 3 hours of CPD a year to ensure their knowledge is continually updated.
Chief Executive Steve Nash
IMI Chief Executive Steve Nash said, "The new qualification for MOT testers is a great opportunity for us to raise technical standards in the motor industry.  The new requirement for regular study and reassessment for the testers will give car owners confidence in the MOT at a time of blisteringly fast technological change. With our network of 600 approved training centres IMI is ready to help the motor trade make the most of the new system."
From September 2016, all new MOT Managers must achieve the new MOT Manager qualification, which will be derived from the new National Occupational Standards (NOS) for MOT Managers. Throughout the ongoing development of this qualification, IMI will work with the MOT Trade to ensure the training programme benefits businesses and individuals.
For any training centres wishing to be a part of this new opportunity please contact our Business Development team at enquiries@theimi.org.uk.
Media enquiries
For media enquiries please contact:
Wendy Harrison,
HSL | Managing Director
Email: wendy@harrisonsadler.com
Tel: +44 (0) 2089 779 132
Mob: +44 (0) 7850 372 469