Published:

11:49, 26 Mar 2015

Updated:

14:05, 1 Apr 2015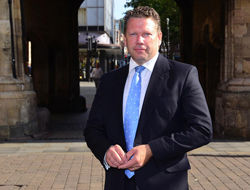 -Release from the office of Karl McCartney MP-
Lincoln Member of Parliament, Karl McCartney MP, today welcomed James Stockdale, the Head of Sector Skills at the Institute of the Motor Industry (IMI), Michelle Barrett, IMI's National Manager for England and Steve Nash their CEO, to discuss the licensing of automotive retail technicians.
The IMI works with employers in the design of National Occupational Standards and apprenticeships as well as representing the policy position on issues on behalf of the automotive sector - particularly in relation to skills.
According to the road safety charity Brake, poor vehicle maintenance is at the root of around 2,000 road accidents every year, causing hundreds of serious injuries and as many as 50 fatalities. Half of UK motorists also admitted to Brake they had driven with at least one risky problem or defect on their cars for long periods.
In IMI research, a third of drivers said they never have their car serviced by a professional technician. They attribute this neglect to a lack of trust in the motor trade. It is a dangerous situation that Government action could potentially easily remedy.
Karl McCartney MP said:
"I was delighted to meet with Steve, James and Michelle of IMI to discuss the licensing of automotive retail technicians, although I had previously met with Michelle and was introduced to the work of the IMI when I was asked to present PK Automotive in Lincoln with their Recognised Employer Award.
"The truth is that in the UK anyone can work on a car commercially; they don't need qualifications or any training. Just as worrying, those that have relevant qualifications are under no obligation to maintain their skill levels to keep up with technological developments. The public have no way of knowing if the work carried out on their car at a garage has been done safely by a competent professional or not.
"Both the IMI and I believe that this matter needs addressing and I have now also written to the Prime Minister so that he is aware of my and the IMI's views."
*The IMI will publish responses to its letters to party leaders regarding licensing during the election campaigns*
Media enquiries
For media enquiries please contact:
Wendy Harrison,
HSL | Managing Director
Email: wendy@harrisonsadler.com
Tel: +44 (0) 2089 779 132
Mob: +44 (0) 7850 372 469