Published:

09:36, 15 Oct 2013

Updated:

12:44, 17 Oct 2013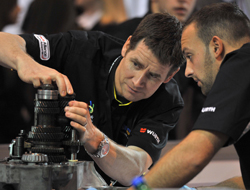 The Institute of the Motor Industry (IMI) has announced the first achievers in both England and Scotland of new recognition standards aimed at trainers and assessors in the automotive industry.
In the latest in a series of recent enhancements to IMI membership, 'Automotive Trainer and Assessor Professional Recognition Standards' are now available and have been designed specifically for professionals involved in automotive training, to recognise their qualifications, experience and capability.  This is the first time support and recognition of this type is available to this professional group.
Allianz Global Assist Technical Training Manager, Mike Donley has become the first IMI member to achieve the 'Advanced Automotive Assessor' recognition standard whilst David Wray, Work Base and ATA Assessor Verifier at Motherwell College, was the first automotive professional in Scotland to achieve the same standard. For the advanced levels, trainers and assessors need to be actively working with employers/automotive businesses and must undertake an assessment process to demonstrate their skills and knowledge.
Speaking after receiving his certificate, Mike Donley commented:
"It was fantastic to be the first achiever and I am proud that I was able to attain the highest standard available. I would definitely recommend these standards to people in a similar position. This is the first programme to come along that specifically recognises individuals who are passing on skills and knowledge to others in the automotive sector. Many people in training related positions hold qualifications, but do not necessarily do anything with them to further their careers or have their own achievements recognised. These standards provide a clear route to do that."
Trainers and Assessors who have achieved the standards are also listed on the IMI's public-facing Professional Register and will have their status displayed alongside their membership grade. To find out more about the IMI's new Trainer and Assessor recognition standards visit www.theimi.org.uk/ta.
Media enquiries
For media enquiries please contact:
Wendy Harrison,
HSL | Managing Director
Email: wendy@harrisonsadler.com
Tel: +44 (0) 2089 779 132
Mob: +44 (0) 7850 372 469