Published:

15:07, 18 Feb 2015

Updated:

12:36, 16 Oct 2018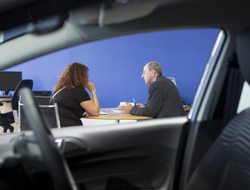 The IMI has launched a new accreditation for automotive sales personnel. IMI Sales Accreditation will act as the professional standard for vehicle sales, sitting alongside IMI's existing Customer Service Accreditation as the IMI leads a new drive to improve public perceptions of the industry.
Early adopters of the new Sales Accreditation route include Mercedes-Benz and Vauxhall, who have already begun to reap rewards of staff that have completed the training and assessment. With a number of other manufacturers and large dealership groups also in discussion with the IMI about Sales and Customer Services Accreditation routes, as many as 5,000 registrations are expected in the coming months.
The new accreditation is available at two levels, Sales Executive and Senior Sales Executive. To be successful, employees need to demonstrate competence in the areas of communication, product and technical knowledge, objection handling, complaints, and business processes. The higher Senior Sales Executive level requires additional competence in the areas of workload management, warranty, coaching and supervision. 
All individuals who are successful achievers of IMI Accreditations are placed on the public facing Professional Register – a searchable database of over 40,000 industry professionals who can prove their skills, knowledge, competence and sign up to an ethical code of conduct.
IMI CEO Steve Nash explained:
"The role of the automotive sales professional in today's business has never been more challenging, with product, variant and option proliferation as well as ever tighter regulation of Finance, so an accreditation route which addresses professional standards in this area is an important and logical step to take. We are certain this is the right course of action to raise standards in the sales arena and ensure good operators are rewarded and placed at the forefront of the industry. 
"An official IMI Sales Accreditation means that high quality salespeople have a direct method to promote their skills to potential customers via the IMI Professional Register, alongside skilled technicians.  With high numbers of candidates already in the pipeline, we believe the new accreditation has the potential to revolutionise standards in sales."
Media enquiries
For media enquiries please contact:
Wendy Harrison,
HSL | Managing Director
Email: wendy@harrisonsadler.com
Tel: +44 (0) 2089 779 132
Mob: +44 (0) 7850 372 469