Published:

12:16, 22 Jul 2015

Updated:

12:22, 22 Jul 2015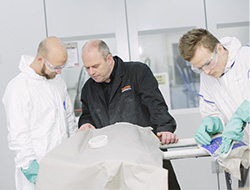 IMI Awards, the leading awarding body for the retail motor industry, received support from training providers from across the UK to pressure the Skills Funding Agency (SfA) to reconsider their decision not to offer public funding for the 3 adult learner qualifications.
The approved 19+ funded qualifications are:
600/2583/9      IMIAL Level 1 Diploma in Automotive Body Repair (QCF)
600/2584/0      IMIAL Level 1 Diploma in Automotive Refinishing (QCF)
600/2806/3      IMIAL Level 1 Diploma in Light Vehicle Maintenance (QCF)
IMI Head of Awarding Product Development, Rob Gray said, "We want to thank the training centres that supported our appeal. It's going to make a big difference to lots of people who want to get into skilled employment and it will help a lot of businesses create the training places they need."
"There are other qualifications that are no longer funded for 19+ learners but we may still be able to appeal. All we will require is written support from IMI Approved Centres."
IMI Approved Centres should contact qualsdevelopment@theimi.org.uk with evidence of demand for qualifications that have had funding removed.
Media enquiries
For media enquiries please contact:
Wendy Harrison,
HSL | Managing Director
Email: wendy@harrisonsadler.com
Tel: +44 (0) 2089 779 132
Mob: +44 (0) 7850 372 469