Published:

10:43, 3 May 2018

Updated:

10:55, 3 May 2018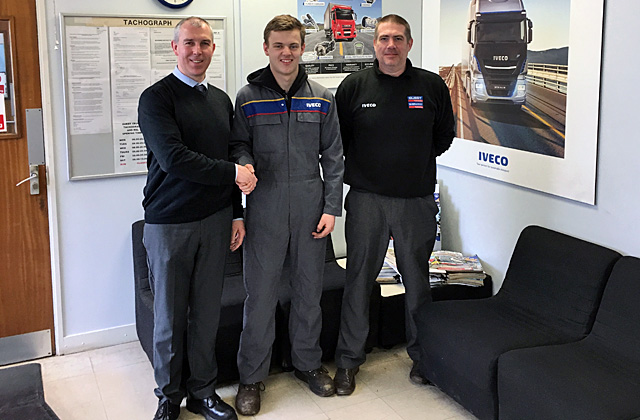 The automotive professional body, the IMI, is celebrating the 1000thapprentice who has enrolled onto a new Apprenticeship Standard. The apprentice, Cye Reedman, is currently training on the Heavy Vehicle Apprenticeship Standard, through the IMI and Bosch Automotive Service Solutions, who run the Iveco apprentice programme.
After leaving school and joining Guest Truck & Van Peterborough last year, Cye Reedman found an apprenticeship programme that gave him an opportunity to begin his automotive career in heavy vehicles. With the support from his employer, Cye has used his passion and enthusiasm to become one of the first apprentices to study towards a Level 3 Apprenticeship Certificate in Repair and Maintenance of Heavy Vehicles. The employer-led programmes are being rolled out across multiple streams including Light Vehicle and Bus and Coach.
Cye Reedman, Apprentice at Guest Truck & Van Peterborough, said:
"I'm now getting much more involved using more workshop tooling, air tools and drills. I'm also using E.A.S.Y connecting to vehicles diagnostic systems that enable me to read fault codes, resetting service lights – plus observing my mentor who carries out fault finding and programming activities. This is supporting 'off the job training' for gateway 1 in my eLogbook.""
Mark Armitage, Head of External Quality and Assessment Services, said:
"Given all the recent press about 'big drops' in Apprentice starts across the country, it is encouraging to see the Automotive Sector lead the charge on recruitment. Whilst we are slightly down overall, it is quickly gathering pace, as Employers, Training Providers and End Point Assessment Organisations (EPAO) transition to the new Apprenticeship Standards - and have a better understanding of the Apprenticeship Levy funding.
"The IMI have always enjoyed strong links to Motor Manufacturer Programmes and this news confirms this is still the case. With a dedicated End Point Assessment Team, the IMI are here to support Employers and Training Providers as the EPAO for the Automotive Sector."
All new Apprenticeship Standards conclude with an independent End Point Assessment (EPA), carried out by an approved End Point Assessment Organisation (EPAO). Cye will undertake his EPA with the IMI, who are currently an EPAO for three Apprenticeship Technician Standards (Light Vehicle, Heavy Vehicle and Bus and Coach).
The IMI is campaigning heavily for better understanding and communication - amongst schools and employers - about the career choices available to young people through apprenticeships.
Media enquiries
For media enquiries please contact:
Wendy Harrison,
HSL | Managing Director
Email: wendy@harrisonsadler.com
Tel: +44 (0) 2089 779 132
Mob: +44 (0) 7850 372 469