Published:

10:04, 16 Dec 2014

Updated:

11:27, 16 Dec 2014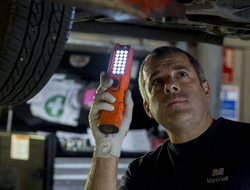 The IMI Professional Register (www.imiregister.org.uk) has received a fresh new look to accompany the launch of a new consumer and trade campaign.  The refreshed Register includes improvements based on feedback received since its public facing launch last year. This includes improved search functionality, page design and interactive advice for vehicle owners. Over 40,000 automotive professionals, including IMI Accreditation (ATA) holders and IMI Members, are set to benefit.
The Professional Register development was timed to align with a consumer campaign launched in December based on new consumer research findings. The independent survey, carried out by Vital Research & Statistics, revealed that women are reluctant to go to a professional technician because of worries about spiraling costs and being uncomfortable in the atmosphere of the garage. The launch began with radio interviews which reached 4.5 million people and the start of a four month online campaign on women's interest websites and across social media platforms. IMI will continue to drive traffic to the Professional Register through a variety of channels aimed at both trade and consumers.
"The Professional Register has been extremely successful since its public facing launch last year," Commented IMI CEO Steve Nash, "With over 40,000 professionals now listed, it is important that we keep up the momentum so those who are listed can continue to benefit. The new look Register, alongside a new trade and consumer campaign will ensure those who invest in skills remain at the forefront of the industry."
The Professional Register now also includes a series of videos, featuring BBC F1's Suzi Perry, which provides drivers with basic maintenance tips and advice as to when and how professional technicians can help them. IMI will also be running a social media competition until April 2015 where drivers can win up to £300 off vehicle servicing or repairs at a garage listed on the Professional Register.
Notes to Editor
For media enquiries please contact:
Simon White, IMI PR Manager
E: simonw@theimi.org.uk
T: 01992 511521
M: 07889 630 803
Media enquiries
For media enquiries please contact:
Wendy Harrison,
HSL | Managing Director
Email: wendy@harrisonsadler.com
Tel: +44 (0) 2089 779 132
Mob: +44 (0) 7850 372 469