Published:

16:54, 4 Nov 2016

Updated:

11:43, 8 Nov 2016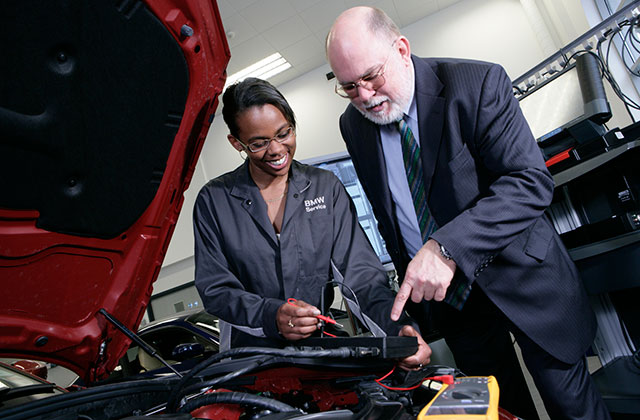 The majority of Carspring customers are female, and the company sees breaking down gender barriers as paramount to success. However, with figures from catalyst.org finding that only 16% of those working in the UK industry are women, co-founder Maximillian Vollenbroich is determined to help bring about a change.
"The gender imbalance in the motor industry is, frankly, ridiculous. Everyone, both men and women drive cars, so both men and women should be involved in the sector. What's more, inequality is a real roadblock to innovation and we want to do our bit to make amends."
"At Carspring, we're committed to bringing about a better balance. One of our core values is inclusiveness, which is obviously really close to our hearts. But, it's not just about our belief in gender equality. We know businesses that represent their customer base best have a much better chance of success."
"The IMI has been instrumental in pushing to address the problem. That's why we've partnered with them to deliver this scholarship. We think the combination of financial help and practical experience presents a truly unique opportunity to encourage more women to get involved," said Mr Vollenbroich.
IMI CEO Steve Nash said: "This is a fantastic initiative that chimes perfectly with our campaign to promote careers in the motor industry to women.
Carspring are ahead of the curve on this issue and I hope other companies will follow their lead and offer practical assistance to help young women join our sector."
Facts about the scholarship
Open to apprentices level 2-4 (advanced technician etc.) and anyone with a confirmed place at a UK university.
Offers a £1000 cash bursary and a two week work experience period in either London or Berlin to two successful applicants per year.
Applicants apply by submitting a briefing document on 'The Future of Automotive Retail.'
Media enquiries
For media enquiries please contact:
Wendy Harrison,
HSL | Managing Director
Email: wendy@harrisonsadler.com
Tel: +44 (0) 2089 779 132
Mob: +44 (0) 7850 372 469