Published:

12:21, 4 Nov 2015

Updated:

11:08, 9 Nov 2015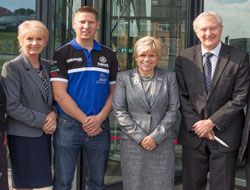 Celebrating with Governors, partners and employers, the College was delighted to show off the fantastic new build to its full potential, having invested £13 million into engineering and vehicle manufacturing in North Lincolnshire.
The Technology Centre has been developed to recognise the importance of Engineering and Manufacturing in North Lincolnshire, and both the Humber Local Enterprise Partnership (known as LEP) and Greater Lincolnshire LEP have identified the need to train and up-skill the production of technicians, engineers, industry managers, technical specialists, and software and product designers to address the skills gap.
There is a growing recognition from the engineering sector that over 1 million technicians and apprentices are required in this sector by 2022 just to replace the aging workforce and with the emerging east coast off-shore wind farms and the level of development along the Humber bank.
Special guests included Gary Johnson (Superbike Champion) who bought along his bike which he won the 2011 Isle of Man TT event with. Gary is a former student at North Lindsey College, and said, "It's very flattering to be invited back to College. I brought my bike with me as it's a great piece of engineering. I have particularly been impressed with the Motor Vehicle department, it has very high standards. If I was to choose a College I would rate North Lindsey mega high."
Michelle Barrett MIMI, Business Development Manager at IMI, said, "I was delighted to see the state-of-the-art facilities at North Lindsey College – and working together with their close partners Just Car Clinic Group to nurture, train and develop the future generation of the UK motor industry technicians. These new facilities ensure learners have equipped with world-class skills that are needed to hit the ground running"
Media enquiries
For media enquiries please contact:
Wendy Harrison,
HSL | Managing Director
Email: wendy@harrisonsadler.com
Tel: +44 (0) 2089 779 132
Mob: +44 (0) 7850 372 469