Published:

12:53, 4 Dec 2015

Updated:

08:49, 7 Dec 2015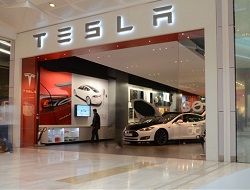 Electric car maker Tesla is bypassing the traditional franchise model as it begins selling its cars only from outlets in shopping centres such as London's Westfield and high street locations. This influx of new sales models has shaken the industry with manufacturers selling vehicles directly to the public with Hyundai, Audi and BMW all branching away from the traditional forecourt.
Institute of the Motor Industry (IMI) is helping motor retailers keep up with the developments in vehicle sales by launching IMI Accreditations in customer service and management in order to deliver quality service from the workshop right through to the showroom raising the bar in the retails customer's eyes.
IMI CEO, Steve Nash, says, "The goalposts are moving and it's clear that we will see a much wider variety of sales models in the future. This requires staff who are knowledgeable, informed and adaptable. Our accreditations are aimed at assessing and developing these core skills; preparing people for today and whatever comes in the future"
A spokesperson for Tesla, says, "With fixed pricing, the idea is that it's transparent. People don't feel like they need to go into battle or brush up on their negotiation skills before they come into a store. They can spend that time researching electric vehicles or looking at reviews instead."
"You don't haggle for a handbag, so why should you haggle for a car? It's a different frame of mind. Most transactions are fixed price, particularly in the UK, so it's what most people experience on day-to-day basis."
IMI Accreditation in Customer Service is just one of 20 different routes available which provides recognition for those working in customer-facing roles, providing them with a proof of current competence that's recognised by both their employer and the wider sector. IMI Accreditation leads to increased confidence of the individual, their employer and the customer.  
 
Media enquiries
For media enquiries please contact:
Wendy Harrison,
HSL | Managing Director
Email: wendy@harrisonsadler.com
Tel: +44 (0) 2089 779 132
Mob: +44 (0) 7850 372 469