Published:

11:25, 22 Sep 2015

Updated:

11:30, 22 Sep 2015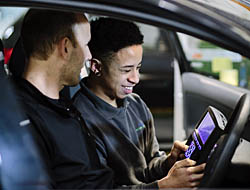 Research commissioned by Institute of the Motor Industry (IMI), the professional association for individuals working in the retail motor industry, found many businesses prefer to take on migrant workers to help fill the skills gaps rather than hiring an apprentice because candidates coming from school were not of sufficient quality.
IMI identified poor careers advice and schools hoarding talent for academic study as the route of the problem.
Undaunted by these obstacles, Riverpark Training produce industry superstars year after year. Among the college's current intake are Jonathan McNaugher, and Andrew Gault, who have both won places at the Skill Auto Final 2015, the UK's largest skills competition, - they are also both on the shortlist for the IMI's Outstanding Achievers Awards, to be presented by HRH Prince Michael of Kent at Silverstone in October.
Riverpark Training & Development is the only training centre in Northern Ireland which specialises in accident repair - giving individuals world-class training and support to achieve the skills and knowledge to work within the growing industry.
Colin Hagan, Managing Director for Riverpark Training & Development, said, "We depend strongly on the support of the 'Accident Repair Sector' of the Motor Industry. We have discovered as being past winners of the 'Specialised Centre of the Year' in 2013 and 2014 that the awards presented by the IMI are highly recognised by the industry as a whole and therefore showcase the standard of our organisation. This year again we are very proud to be considered a finalist in the 'Specialised Centre of the Year' category, an award we would love to retain but know that the competition level this year is very high.
"We also see how these awards also recognise the efforts of our young students, as they compete against the best of apprentices from all over the UK, in SkillAuto with the dream to represent the UK at World Skills level. To be considered for 3 categories at these awards this year, is simply outstanding.  The knock on effect is to attract more talented young people to our industry."
Steve Nash, CEO of IMI, said, "Riverpark Training are an outstanding  example of the very best quality training being undertaken within the motor industry, and I'm delighted to see both them and a number their candidates being recognised as nominees at our Outstanding Achiever awards."
"This annual event underlines the fact that there are plenty of young, talented people ready to join our industry, work for local businesses, and undertake apprenticeships that will ensure they are equipped with the knowledge, skills and work ethics required to succeed in such a dynamic, fast paced industry."
Media enquiries
For media enquiries please contact:
Wendy Harrison,
HSL | Managing Director
Email: wendy@harrisonsadler.com
Tel: +44 (0) 2089 779 132
Mob: +44 (0) 7850 372 469