Published:

11:28, 27 Mar 2013

Updated:

11:28, 27 Mar 2013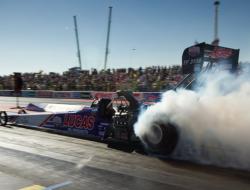 Santa Pod Raceway, the home of European Drag Racing, has announced for a second year running that it will be inviting groups from schools and colleges to this year's FIA European Drag Racing Championship events. Santa Pod Raceway is organising the programme of events in partnership with the Institute of the Motor Industry (IMI) and their online automotive careers resources and communities, which are based at www.autocity.org.uk. The scheme aims to help raise awareness of exciting career opportunities in the automotive industry.
The FIA Championship's UK rounds take place in May and September and pit the cream of Europe's fastest 'Top Fuel' and 'Nitro Fuel' cars in a head to head blaze of power that sees top entrants hitting 100mph in well under a second and covering a quarter mile in less than 5 seconds.
Santa Pod will be inviting students or apprentices, who are part of the 1st Gear or Accelerate communities, and groups from schools and colleges, to come and enjoy the racing on either Friday 24th May or Thursday 5th September completely free of charge.
Commenting on the initiative, Santa Pod's Marketing Manager Caroline Day said:
"We're always looking to give something back to the industry wherever possible – and this felt like a great way to encourage the industry's future stars to get involved with the World's fastest motorsport. Not only is it a great day out for these young people, but any Top Fuel meeting is a great way to network and meet industry people at the highest level. Who knows? Some may even find their true vocation here, too!"
Passes need to be pre-booked at least a week before the event, groups should contact donna@santapod.com  quoting 'IMI Schools Offer' and individuals should contact Emily Hakansson at the IMI on emilyh@motor.org.uk
-Ends-
Notes to Editor
Drag Racing at Santa Pod Raceway UK
Santa Pod Raceway in the UK is the home of European Drag Racing and host to the televised FIA European Drag Racing Championships. It's the fastest and loudest motorsport on earth with sensational race action from dragsters and doorslammers to beetles and bikes.
www.santapod.co.uk
About the Institute of the Motor Industry (IMI):
The IMI is the professional body for individuals working in the motor industry. Its vision is to ensure that the automotive retail sector has a skilled, competent and professional workforce that is fully equipped to keep pace with the demands of new technology and changing markets while remaining competitive in the global market. The IMI is also the industry's government licensed Sector Skills Council, the ruling body of the Automotive Technician Accreditation and Automotive Management Accreditation schemes, as well as the authoritative source of retail motor industry careers information, standards and qualifications.
Please visit www.theimi.org.uk to find out more.
Follow us on Twitter - @The_imi
Find us on Facebook - www.facebook.com/theimipage
For media enquiries please contact: 
Simon White, IMI PR Manager
T: 01992 511521
M: 07889 630 803
 
Media enquiries
For media enquiries please contact:
Wendy Harrison,
HSL | Managing Director
Email: wendy@harrisonsadler.com
Tel: +44 (0) 2089 779 132
Mob: +44 (0) 7850 372 469