Published:

10:59, 4 Mar 2013

Updated:

06:48, 26 Mar 2013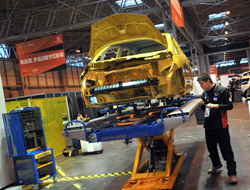 The search for the UK's best young automotive talent is now underway, with the opening of the Institute of the Motor Industry's (IMI's) SkillAuto competition.  Young people will compete in the fields of Autobody, Autopaint and Autotech for a place at the SkillAuto final, which takes place at the Skills Show in November.  In 2012 over 100,000 young people visited the Skills Show at the NEC, which provides a platform for the best of the nation's young talent to compete in their chosen fields, as well as giving visitors the chance to have a go at new skills and gain careers information and advice.
The launch of SkillAuto is accompanied by the announcement that Jaguar Land Rover will be hosting the Autotech heats at their state-of-the-art Training Centre in Warwick, and that 3M will be hosting the Autopaint heats at their new facility in Atherstone. To reach the heats, automotive apprentices will compete in online tests to determine who will go forward to the live heats, which take place between April and June. 
Eighteen competitors took part in last year's SkillAuto final, with the three gold medal winners being invited by the McLaren Group to visit their Technology Centre in Surrey.
Steve Nash, the IMI's Chief Executive, said: "SkillAuto is a vital tool for placing the spotlight on the importance of skills in the motor industry.  The young people that reach the final will represent exactly the high calibre of apprentices the automotive sector is crying out for, as we face the challenges of advancing technology and increasing demands of customers.  As such, the winners of SkillAuto will be important role models for future generations of automotive professionals."
SkillAuto is sponsored and made possible by IMI Awards, Würth, Morelli. To find out more about SkillAuto and how to get involved as well as information about career opportunities in the motor industry, please visit www.autocity.org.uk.
About the Institute of the Motor Industry (IMI):
The IMI is the professional body for individuals working in the motor industry. Its vision is to ensure that the automotive retail sector has a skilled, competent and professional workforce that is fully equipped to keep pace with the demands of new technology and changing markets while remaining competitive in the global market. The IMI is also the industry's government licensed Sector Skills Council, the ruling body of the Automotive Technician Accreditation and Automotive Management Accreditation schemes, as well as the authoritative source of retail motor industry careers information, standards and qualifications.
Please visit: www.theimi.org.uk to find out more.
Follow us on Twitter: @The_imi
Find us on Facebook: www.facebook.com/theimipage
For media enquiries please contact:
Simon White, IMI PR Manager 
Email:simonw@theimi.org.uk
Tel: 01992 511521
Mob: 07889 630 803
Media enquiries
For media enquiries please contact:
Wendy Harrison,
HSL | Managing Director
Email: wendy@harrisonsadler.com
Tel: +44 (0) 2089 779 132
Mob: +44 (0) 7850 372 469