Published:

15:35, 22 Oct 2015

Updated:

16:53, 24 Nov 2015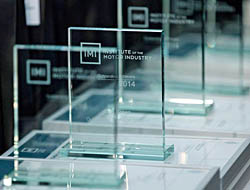 His Royal Highness Prince Michael of Kent, who is patron of the IMI Group, attended the event and said, "The finalists here today reflect the passion and dedication that is at the heart of the IMI's approved centre network, and you should all be extremely proud of your outstanding achievements."
The Outstanding Achievers Awards showcase dedication and hard work that is taking place across the entire industry, including students and apprentices who have shown exceptional work and aptitude for their studies, as well as practising industry professionals who set the benchmark for others working in the sector in terms of skills and professionalism.
This year's event was supported by sponsors - Automotive ToolZone, Elring Parts, MotorService and GForces. 14 winners were chosen from 120,000 IMI Qualification learners, 30,000 IMI Accreditation holders, and Management Professionals from across the breadth of the sector.
New College Lanarkshire (Motherwell Campus) won the coveted Approved Centre of the Year award, whilst Just Car Clinics took the Specialist Centre of the of Year.
Speaking at the event IMI CEO Steve Nash said, "Everyone here is already being recognised for their achievements and you can be certain that, if you are nominated here today, you already have the best possible start to your career. If you are here as a professional or representing an organisation, than you have already been recognised as a leading light in the sector.
"Today is about celebration and accomplishment. What you have done to come this far should be reason enough to be proud, as much as the actual receiving of an award."
Further pictures, including winner's shots, can be found on the IMI Awards Facebook page. Use the link on the right hand side to visit the page.
Approved Centre of the Year
Winner: New College Lanarkshire (Motherwell Campus)
Finalists:
South Devon College
Mercedes-Benz UK
BMW Group Academy UK
Specialist Centre of the Year
Winner: Just Car Clinic
Finalists:
Riverpark Training and Development
Motorcycle Industry Accreditation Centre (MCIAC)
Light Vehicle
Winner: Will Allen - Volvo Training & Development
Finalists:
Ben Dodds - Skillnet Ford
Jodie Fallaize - Mercedes-Benz UK
The Tony Swiatek Memorial Award
Martin Keith Embury - Jaguar Land Rover Technical Academy
Heavy Vehicle
Winner: Ciaran Blakemore - Skillnet Scania
Finalists:
Andrew Markell - Skillnet DAF
Dexter Truscott - Skillnet DAF
Harry Atkinson - Mercedes-Benz
Fast-Fit
Winner: Connor Bide - National Tyres Services (NAT)
Paint
Winner: James Grayson - Chesterfield College
Finalist: Jonathan McNaughter - Riverpark Training and Development
Body Repair
Winner: Elizabeth Hodgson - Hull College
Finalist: Andrew Gault - Riverpark Training and Development
Motorcycle
Winner: Frank Balchin - Wirral MET College
Finalist: Daryl Adcock - South Devon College
Non-Technical
Winner: Alex Malcom - Mercedes-Benz UK Ltd
Finalists:
Paul Apperley - Remit Scotland
Liam Hook - Mercedes-Benz UK
Young Student of the Year
Winner: Blayne Atkinson - Motorvation Training
Outstanding Management Professional
Winner: Stephen Astill - AIT Training Developments Limited
Finalist: Carl Brookfield - AIT Training Developments Limited
Outstanding Accredited Professional (Technical)
Winner: Mike Donley - Allianz Global Assistance
Outstanding Accredited Professional (Non-Technical)
Winner: Graham Atkinson - Axle Group - NTA
Media enquiries
For media enquiries please contact:
Wendy Harrison,
HSL | Managing Director
Email: wendy@harrisonsadler.com
Tel: +44 (0) 2089 779 132
Mob: +44 (0) 7850 372 469