Published:

10:41, 2 Oct 2013

Updated:

10:57, 22 Oct 2013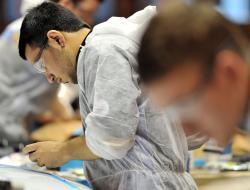 Eighteen SkillAuto competitors are gearing up to take part in the contest's final which takes place at the Skills Show at the NEC Birmingham from 14th - 16th November. Three streams of competition will take place at the show, with finalists in Autopaint, Autobody and Autotech completing tasks in front of the 100,000 visitors that are expected to attend the event seeking careers advice.
As well as undertaking a number of challenging tasks under the time pressure of workshop conditions, the talented young finalists will also have to face media attention and the scrutiny of expert judges in their quest to become the best young technician in their field.
In addition, Institute of the Motor Industry (IMI) staff will also be on hand to ensure that careers in the automotive retail sector have a strong presence at the Skills Show.
David Massie, the IMI's Skills Competition Manager, said: "SkillAuto is vital for placing the spotlight on career opportunities in the motor industry. Many people are still unaware of the complexity of modern vehicle construction and refinishing and the high level of skills required to repair them. The young people that have reached the final have a great opportunity to become the best in their field and represent the high calibre of apprentices the motor industry needs as role models for future generations of automotive professionals."
To find out more about SkillAuto and the IMI's wide range of teaching and careers resources visit www.autocity.org.uk. If you would like to attend the Skills Show visit www.theskillsshow.com
Ends
Skillauto Finalists
Autotech
 •Damien Robinson (Honda) England - Crown Garage Soham
•Elliott Byers (Subaru) Scotland - Ian Grieve Subaru
•Darrell Delaney (Kia) England - Norfolk Motor Group Kia
•Ryan Banks (Honda) England - Rowes Honda
•Michael Collins (Donnelly Brothers) Northern Ireland - Donnelly Brothers VW
•Turlough Lennon (JLR) England - Ridgeway Land Rover
Autobody
 •Matthew Bailey (RGM) Wales
•Jordan Thomas(TWK Thomas & Sons) Wales
•Carlo Cipriani (Arnold Clark) Scotland, Inverness
•Lewis Lloyd (BP Rolls Group) Wales
•Andrew McDonald (P.J McLaughlin Auto Body) Northern Ireland
•Mark McCarron (Monaghan Brothers) Northern Ireland
Autopaint
 •Keiren Jones (Nationwide Crash Repair Centre – Ely) Wales
•James Grayson (S & G Coachworks) England
•Jack King (Nationwide Crash Repair Centre – Scunthorpe) England
•Anthony Miotti (JM Motors) England
•Martin Inglis (Kinghorn Body Shop) Scotland
•Leon Ivin (Magor Motors) Wales
For media enquiries please contact: 
Simon White, IMI PR Manager
T: 01992 511521
M: 07889 630 803
Media enquiries
For media enquiries please contact:
Wendy Harrison,
HSL | Managing Director
Email: wendy@harrisonsadler.com
Tel: +44 (0) 2089 779 132
Mob: +44 (0) 7850 372 469