Published:

13:48, 3 Feb 2014

Updated:

16:13, 3 Feb 2014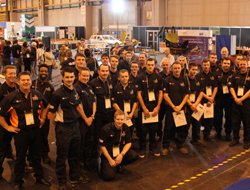 The Institute of the Motoring Industry (IMI) has been nominated for the award of WorldSkills UK Partner of the Year for the delivery of its SkillAuto competitions. The announcement comes on the back of the final of the IMI SkillAuto competition – which took place at The Skills Show, held at the NEC Birmingham  in November last year.  Over 100,000 visitors attended the show, which provides a platform for the best of the nation's apprentices to compete in a huge range of skills, including the three represented in SkillAuto.
The award celebrates Competition Organizing Partners who demonstrate exceptional performance and excellence throughout each annual competition cycle. Worldskills UK work alongside 20 partners to deliver around 70 skills competitions each year and the IMI joins the British Florist Association and the National Skills Academy for Social Care as front runners for the award which will be announced at a celebration event on the 12th February.
The nomination is sure to put SkillAuto at the forefront of the 2014 Skills Show - welcome news for automotive apprenticeship providers, who are sure to benefit from the increased profile of the competition.
David Massie, Skills Competition Manager at the IMI said "I never expected this and feel very honoured we have been nominated alongside colleagues who deliver exemplary competitions. I am however, absolutely delighted that all the hard work, dedication and effort put in by the SkillAuto team has been recognised in this way and look forward to hearing the winner announced on the 12th"
Registrations for the 2014 SkillAuto competition are due to open on the 10th February. To find out more, visit www.autocity.org.uk/skillauto.
Media enquiries
For media enquiries please contact:
Wendy Harrison,
HSL | Managing Director
Email: wendy@harrisonsadler.com
Tel: +44 (0) 2089 779 132
Mob: +44 (0) 7850 372 469