Published:

13:02, 15 Aug 2016

Updated:

16:24, 15 Sep 2016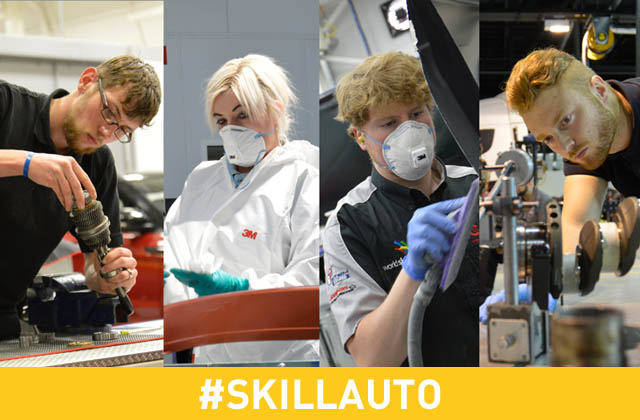 This year's contestants are battling for a Gold Medal and coveted places in the UK team which will compete at the WorldSkills event in Russia 2019, which is the Olympic Games for skills.  
The 24 finalists emerged from the grueling qualifying heats that pitted the very best 300 students in the motor industry from across the UK in direct competition with each other. Big name dealers and independent service business are equally represented in all the final groups.
The winners will get the chance to show what they've got over the three day competition, working with trucks, cars and the latest equipment supplied by the likes of Volvo, DAF, Iveco and MAN, VW, BMW, Kia, Toyota, 3M, Car-O-Liner, MATCO, Morelli, Pro Align, SATA and Glasurit.  
One of the highlights of this year's competition will be the first appearance of a plug-in hybrid vehicle, the BMW i3. The trainees will demonstrate the special skills required to work on this future technology. There are currently only around 1,000 technicians in the UK qualified and accredited to work on the high voltage systems found in electric and hybrid cars. IMI believe this part of the competition is sure to catch the eye of many young visitors to the Skills Show for whom electric vehicles will be the norm in their adult lives.
IMI's David Massie, Skills Competition Manager, said:
"The standard of this years finalists is astonishing, they're all world class in my opinion. I'm looking forward to a great show in November.
"The addition of the Heavy Vehicle section and the use of a plug-in hybrid to test the finalists will really give this years competition an edge.  Anyone interested in future skills in the motor industry would be mad to miss it."
The Skill Auto Finals take place 17-19th November 2016 at the Skill Show at the NEC in Birmingham.    
The 2016 IMI SkillAuto finalists are:
Automotive Technology
Brett Gibson - Hatfields Land Rover / Jaguar Land Rover Academy
Harry Garraway - Heritage VW Van Centre / VW Group Apprenticeship Programme
Ryan Kane - Connellys Volkswagen / South West College
Walter McElroy - Westernn Cars / South West College
Eoin McCluskey - Desmond Motors / Northwest Regional College
Gareth Murphy - Carmanic / South West College
Automotive Body Repair
Harry Devine - Body Motor Works / Chesterfield College
Shawn Dyson - Chartwell / Chesterfield College
Hayden Forrester - Excel Body Repairs / Gateshead College
Justin Mahon - Kevin Connolly Car Sales / Southern Regional College
Lewis Owers - Nationwide Gladwins / Thatcham
Michael Sanlon - Trust Ford / Transport Training Services
Automotive Refinishing
Daniel Appleby - JD Macadam and Sons / Training 2000 Limited
Kirsty Ashley - Concept Refinishers Ltd / Nova Training
Tom Harris - Davies Motor Company
Christopher Jones - Saintclairs Group / Cardiff & Vale College
Michael Massey - Alton Cars Ltd / Chesterfield College
Theodoros Tsouknidas - Nationwide Crash Repair / Cardiff & Vale College
Heavy Vehicle Engineering
Jack Burt - Volvo Trucks (Broxburn) / Stephenson College
Dominic Scott - Volvo Trucks (Enfield) / Stephenson College
Dean Carter-Pilgrim - Cordwallis Heathrow / MAN/S&B Auto Academy
Shaun Richards - Scania Heathrow / Scania GB Ltd
Taylor Yuill - Scania (Grangemouth) / Scania GB Ltd
Shaun Cousins - Ford and Slater Leicester / DAF Trucks, City of Bristol College
Media enquiries
For media enquiries please contact:
Wendy Harrison,
HSL | Managing Director
Email: wendy@harrisonsadler.com
Tel: +44 (0) 2089 779 132
Mob: +44 (0) 7850 372 469