Published:

12:42, 27 Apr 2016

Updated:

12:43, 27 Apr 2016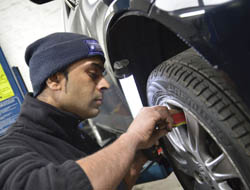 Available from today, all SMTA membership businesses and their employees, will be able to access the annual DVSA CPD and Assessment from a portal both at home or their workplace and more importantly at a time convenient to their personal preferences.
Sandy Burgess, SMTA Chief Executive commented saying:
"This is a fantastic deal for our members, it gives them the convenience of eLearning access with the membership deal delivering an unique, complete and affordable solution for their business. Aligning The SMTA as the recognised motor industry trade body in Scotland with the IMI as the motor industry's professional body is both a logical and exciting prospect for the future."
Steve Nash, Chief Executive of The IMI added:
"We're delighted to partner with SMTA to ensure all their members have access to the new IMI annual CPD assessment and training.  The eLearning platform provides an immediate solution that allows flexible learning for all MOT Testers.  We know that partnership will provide more value for SMTA members moving forward, as we expand our offer into new vehicle technologies and solutions for sales staff
The IMI is offering a complete package to all MOT experts with a bespoke eLearning programme, the annual training and annual assessment, and free online practice tests to ensure all MOT Testers in both Light Vehicle and Motorcycle are equipped with the knowledge required by DVSA."
Media enquiries
For media enquiries please contact:
Wendy Harrison,
HSL | Managing Director
Email: wendy@harrisonsadler.com
Tel: +44 (0) 2089 779 132
Mob: +44 (0) 7850 372 469