Published:

12:54, 17 Jul 2014

Updated:

14:03, 17 Jul 2014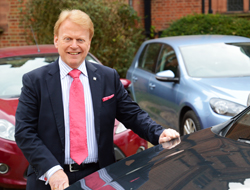 This year's Motor Trader Magazine's Outstanding Achievement Award has been presented to IMI CEO Steve Nash. Steve received the award for his rich and sustained contribution to training and skills development in the retail sector.
Motor Trader Magazine's Curtis Hutchinson commented:
"Steve Nash won the Outstanding Achievement Award for his tireless work and unswerving commitment to raising standards of professionalism in training and development in the motor industry. His work at promoting apprenticeships has been exceptional.
Steve has a long and rich association with the IMI.  As a former president and chairman Steve helped steer the IMI through a period of unprecedented change. Appointed chief executive in 2013 he has presided over the launch of a common standard for automotive management and leadership and has led plans to develop the IMI's overseas business which will improve its funding base."
Steve Nash commented:
"I am delighted and tremendously happy to have received Motor Trader's Outstanding Achievement award. My gratitude goes to all those who have supported me and those who continue to support me in everything I have achieved in my career. It has been a team effort."
The IMI will look to build on Steve's success by continuing to push the skills agenda in the UK automotive sector. You can see Steve Nash talking about the latest IMI Strategic plan click here
For more information about the Motor Trader Awards click here
Media enquiries
For media enquiries please contact:
Wendy Harrison,
HSL | Managing Director
Email: wendy@harrisonsadler.com
Tel: +44 (0) 2089 779 132
Mob: +44 (0) 7850 372 469