Published:

10:22, 22 May 2013

Updated:

10:08, 5 Jun 2013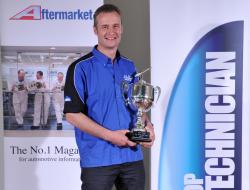 Steve Smith, a senior motor technician at Hills Toyota in Woodford Green, Essex, has been announced winner of the 'Top Technician 2013' competition.  Forty six year old Steve – a previous 'Top Technician' finalist in 2010 and 2011 – was presented with the winner's trophy, a cheque for £2,500 and professional tools, diagnostic equipment and other prizes worth over £18,000 at the awards ceremony at Mercedes-Benz World, Brooklands, Surrey on Friday, May 17th.
"I'm a bit shell-shocked but really happy," said Steve. "This year was my third appearance in the finals, so I guess it only goes to prove the old adage – if at first you don't succeed, try, try, try again!"
Steve, who has been a mechanic since leaving school in his native Wolverhampton at 16, added: "I just wanted to get a skill, a trade which is always in demand and, touch wood, I have never been out of work in thirty years. I love my job and entered Top Technician because I enjoy competing and I enjoy being tested. It really builds your skill levels up and you become better as a result. Mechanics have got to be switched on and constantly up-to-date with all the technology advances in cars."
The winner's trophy, cheque and other prizes were presented to Steve by the chief Top Technician 2013 judge, Ian Gillgrass of the Automotive Technician Accreditation (ATA) arm of the Institute of the Motor Industry (IMI). Steve adds the 'Top Technician' professional career honours to the Toyota Autobase Technician Skills Awards which he also won in 2001 and 2011. Lee Collins of the Kwik Fit Group in Greater Manchester came a close second and was also presented with cash and a host of prizes from sponsors.
Adding her congratulations to Steve on his success, Top Technician 2013 project manager, Nicola St Clair, said: "The annual Top Technician competition is open to experienced motor mechanics in all sectors of the industry, whether they are working in franchised dealerships, independent garages, fast fit outlets or even as mobile mechanics. It is the ultimate, individual test for a professional and every year attracts entries from almost a thousand of the nation's most skilled vehicle servicing experts. It's the one they all want to win and carries enormous prestige and kudos."
For Further Information visit www.toptechnician.co.uk
Media enquiries
For media enquiries please contact:
Wendy Harrison,
HSL | Managing Director
Email: wendy@harrisonsadler.com
Tel: +44 (0) 2089 779 132
Mob: +44 (0) 7850 372 469