Published:

15:23, 19 Nov 2013

Updated:

11:25, 9 Dec 2013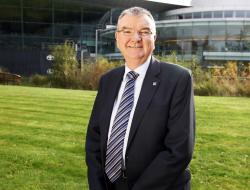 The IMI has announced that Graham Smith OBE FIMI was inaugurated as the organisation's new President at the recent IMI Annual General Meeting. Graham is Executive Advisor to the President of Toyota Motor Europe and Managing Director of its London Office. Graham Smith joined Toyota GB in 1993 and was appointed Managing Director in 1996. In 2006, he joined Toyota Motor Europe as Senior Vice-President External Affairs and Managing Director London Office, External Affairs.
Graham is expected to bring a wealth of industry knowledge to his role with the IMI as well as the work ethic and drive for innovation associated with the Toyota brand.
Speaking about his inauguration, Graham commented:
"The IMI has been an integral part of my entire automotive career and becoming President is a huge honour. I won't be involved in any of the day to day running – that isn't appropriate to the role. I will be there to support the executive team and hopefully offer the benefit of my years of experience. I will also play a role in representing the IMI to key external stakeholders at the highest level, which aligns closely with the organisation's strategic aim to extend its international reach."
IMI CEO Steve Nash commented:
"Graham brings with him a wealth of experience and deep knowledge of the motor industry from his role with Toyota. The IMI can only benefit from his presence and input as we push forward with our innovative programme of solutions to challenges the automotive sector faces in the modern world."
Graham Smith's appointment comes on the back of the launch of the consumer campaign for the IMI's Professional Register. The Register is aiming to place skills at forefront of good practice in the automotive retail sector, by publically listing automotive professionals whom the IMI is able to verify are skilled and currently competent in their roles.
Ends
Media enquiries
For media enquiries please contact:
Wendy Harrison,
HSL | Managing Director
Email: wendy@harrisonsadler.com
Tel: +44 (0) 2089 779 132
Mob: +44 (0) 7850 372 469