Published:

09:45, 22 May 2018

Updated:

10:23, 25 Jun 2018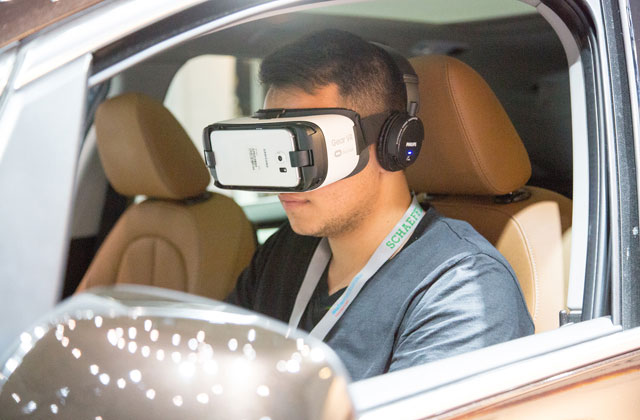 Messe Frankfurt has once again worked closely with exhibitors and trade associations to create an interesting professional-development programme for trade visitors from the workshop sector with eleven workshops for repair specialists from the collision-damage segment being held throughout the fair, from 11 to 15 September 2018. Experts will hold the three-hour courses in German during the mornings and English in the afternoons
Bringing together thousands of automotive supply and aftermarket companies on an international platform, the IMI is partnering with organisations like Bosch, DEKRA and BMW to give visitors the opportunity to gain CPD points through training seminars whilst they visit the event. Supporting the need for individuals to keep their knowledge and skills up-to-date in today's rapidly changing industry, the IMI's CPD certificates demonstrate the person's knowledge on new products, services and skills after attending a live training seminar during Automechanika Frankfurt.
Raising the awareness of the importance of vocational skills and training across the automotive sector, the IMI will be giving their stamp of approval by certificating the training courses taking place across the 5 days. Training topics include systematic car damage assessments, high-voltage systems, paint refinishing, and bodywork repairs for the BMW 5 Series.
The IMI's partnership with Automechanika Frankfurt attracts thousands of automotive supply and aftermarket companies on an international platform, and both organisations are committed to promoting the attractiveness, value and results of skills development and personal learning.
Mark Forshaw, Business Development Manager at the IMI, said:
"The IMI is delighted to be working with a variety of CPD partners at Automechanika Frankfurt as part of a new initiative to enhance peoples experience when visiting the show. The training available will give people the opportunity to gain further knowledge, whilst receiving CPD points from the IMI during their visit.
"As the only automotive specific professional body, we continue to champion quality training and believes it's more important than ever to invest in our workforces. By providing employees with the skills and knowledge we can help secure a strong future for our sector."   
Olaf Mußhoff, Director Automechanika Frankfurt said:
"Education and the promotion of young talent is an important topic today, not only in Germany but worldwide. We are glad that we have found with IMI a very competent and important partner, who actively supports us with his international know-how in further education trainings."
Please note - participation by advance registration only
In view of the high degree of interest expected to be shown in the workshops, the participants are asked to register for one or more of the courses on the Automechanika website by 31 August.
Participation in all courses, all of which will be held in the Galleria between Halls 8, 9 and 10, is free of charge.
Detailed descriptions of the individual workshops and the registration form can be found on the internet here.
The CPD value of the training events will be calculated by IMI CPD technical experts to ensure IMI guidelines are met. The CPD points will contribute towards the retention of IMI Membership and Professional Registration – as well as being recognised across 57 countries.  All attendees can find the CPD credits they've been awarded on both the digital and hardcopy versions of their certificate.
DEKRA: Systematic car damage assessments following an accident
DAT: Car damage cost calculation/communication
Akademie des Deutschen Kraftfahrzeuggewerbes, TAK, Adam Opel AG, Toyota: Electrically trained person for working with intrinsically safe high-voltage systems in accordance with the requirements in Germany
Carbon: Bodywork – removal of exterior dents
Wieländer+Schill: Joining techniques and equipment
Carsystem - Vosschemie GmbH: Bodywork – bonding and sealing
Car-o-Liner: Bodywork – Repairs using Frame Straighteners
BMW: Bodywork repair for the BMW 5 Series
Robert Bosch GmbH: Headlight adjustment and on-board electronic diagnostics with reading out the fault memory and Chassis diagnostics
Mirka GmbH: Sanding and filler work in preparation for painting and top coat
BASF Coatings GmbH / Glasurit,: Paint Refinishing and Finish
Media enquiries
For media enquiries please contact:
Wendy Harrison,
HSL | Managing Director
Email: wendy@harrisonsadler.com
Tel: +44 (0) 2089 779 132
Mob: +44 (0) 7850 372 469