Published:

12:23, 7 Nov 2013

Updated:

13:45, 7 Nov 2013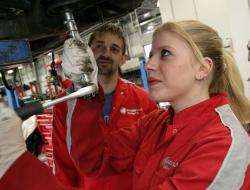 As the Government introduces 'Improved Apprenticeships' which aims to put employers in the driving seat to create new Apprenticeship standards, Steve Nash, Chief Executive of the Institute of Motor Industry, which helps design the content and structure of apprenticeship schemes across the retail motor sector, questions its feasibility.
"The aims of the Government's approach to apprenticeships are admirable – but sadly we think pretty impractical certainly in the retail motor industry", said Steve Nash.
"The reality is that a large percentage of employers in the sector are small, proprietor-led businesses.  The people who own and run these organisations already struggle to find the time to complete the basic paperwork for their business; is it really realistic to expect them to dedicate focused resources to creating an effective apprenticeship scheme?  And what this means is that another avenue for young people to get on the jobs ladder is closed.
"Indeed, feedback we receive from stakeholders in apprenticeships strongly suggest that the current frameworks are fit-for-purpose.  This therefore poses the question as to why there is a need for change.  Is it a case of using a sledgehammer to crack a nut?"
Key concerns Steve Nash has in relation to the new Government approach to apprenticeships include:
A conflict between the stated aim to raise the quality of frameworks and the proposal that the apprenticeship standard should be given on 'a page of A4 paper'.
The lack of a benchmark for all apprenticeship programmes making it very difficult to compare and 'transport' across sectors.
The risk of devaluing the current apprenticeship programmes, or lessening the achievement of the learners currently embarking on or completing them.
The funding of the propose schemes and comparability of funding rates across apprenticeships, and sectors.
The potential to undermine the value of apprenticeships by applying a grading system - pass, merit or distinction.
Aside from these reservations, Steve Nash believes that the IMI is in a really good position to move forward with the requirement to ensure that the new apprenticeship programmes are employer-led and meet the sector needs; and employ an end of programme skills assessment that is industry recognised and leads to professional recognition.
"Whilst the IMI is not directly involved in any of the 'trailblazer' pilots, we will be looking to ensure that we work closely with colleagues in the Automotive (focused on manufacturing) Trailblazer to ensure that we can represent our employers' needs, and that we can learn from this pilot so that we are in a good position to move forward with apprenticeship programmes for the automotive retail sector.  We already have a ready-made solution."
Steve Nash is available to provide further comment on this issue.  He can be contacted direct on 07831 118611 or email at snash@theimi.org.uk or via Wendy Harrison/Dominic Dennis at HSL on 0208 977 9132.
Notes to Editors
The IMI – supporting the professionalism of the motor industry
The IMI qualifies around 70,000 people working in the retail motor sector per year, from apprentices and service technicians to used car sales people and managers
The IMI Professional Register is a publicly searchable database enabling members of the public to identify competent, qualified individuals in their area and the businesses they work for, thus improving customer confidence
Over 40,000 people working in the retail motor industry are currently recorded as competent and signed up to an ethical code of behaviour on the IMI Professional Register
Driver safety is paramount at the IMI – Thatcham included the IMI Automotive Technician Accreditation (ATA) as part of its minimum required standards for bodyshop repair operatives
 The IMI encourages apprenticeships and is the retail motor industry's largest provider of apprentice qualifications.
 The IMI offers an extensive portfolio of vocational training courses for continuing professional development (CPD), including manufacturer programmes from the likes of Mercedes and Scania.
 IMI CEO, Steve Nash, has an influential role in the All Party Parliamentary Apprentice Group
The IMI is currently working with 28 motor brands plus a number of large retail groups to incorporate IMI Accreditation into their training programmes
Media enquiries
For media enquiries please contact:
Wendy Harrison,
HSL | Managing Director
Email: wendy@harrisonsadler.com
Tel: +44 (0) 2089 779 132
Mob: +44 (0) 7850 372 469