Published:

09:27, 21 Nov 2016

Updated:

14:07, 5 Dec 2016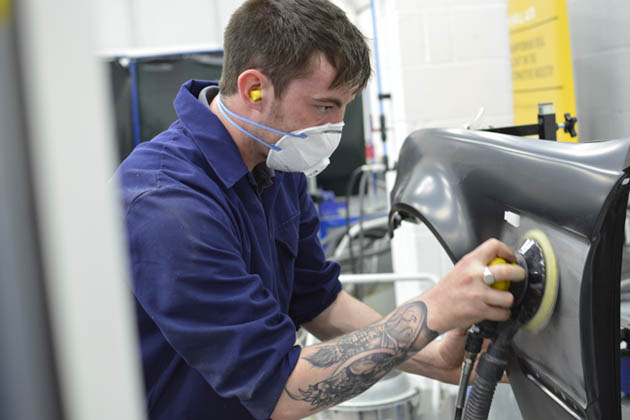 In front of 80,000 visitors 24 automotive competitors competed across four work streams (Auto Body Repair, Auto Heavy Vehicle Engineering, Auto Refinishing and Auto Tech) to win the title of best automotive apprentice in their field.
Each competitor had their skills pushed to the limits to determine their technical ability in front of the thousands of school and college students, and the general public who attended the nation's largest skills and careers event.
The Skills Show held at the NEC Birmingham was divided into zones to allow visitors to focus on particular industry sectors including engineering and technology, hospitality and lifestyle, as well as media and IT. With live competitions, demonstrations and interactive activities taking place across the show, this annual careers event guaranteed a fun and educational experience for all visitors.  
Davie Massie MIMI, Skills Competition Manager at the IMI, said:
"We have seen some outstanding young talent stretched to their limits over the duration of our national finals and each one can be proud of their performance. The four gold medalists showed they have the skills, knowledge and aptitude to cope with the challenges we set them under exceptional circumstances. Each one proved they are worthy champions and real ambassadors for our industry."
Steve Nash, CEO at the IMI, said:
"The apprentices competing at The Skills Show highlight the extraordinary talent that has been created with the support of employers and training providers, along with the passion and enthusiasm of young people themselves. With careers advice in schools and colleges being of variable quality, The Skills Show is a great opportunity for young people and their parents to see the opportunities available within the vocational arena."   
The full list of IMI Skill Auto 2016 medal winners are:  
Automotive Technology Final 2016 results
1.    Harry Garraway (VW Group Apprentice Programme / Employer – Heritage VW Van Centre)
2.    Brett Gibson (Jaguar Land Rover Academy / Employer – Hadfields Land Rover)
3.    Eoin McCloskey (Northern Regional College / Employer – Desmond Motors)
Automotive Body Repair Final 2016 results
1.    Shawn Dyson (Chesterfield College / Employer – Chartwell)
2.    Lewis Owers (Thatchams /  Employer – Nationwide Gladwins)
3.    Justin Mahon (Southern Regional College / Employer – Kevin Connolly Car Sales)
Automotive Refinishing Final 2016 results
1.    Michael Massey (Cheterfield College / Employer – Alton Cars Ltd)
2.    Christopher Jones (Cardiff and Vale College / Employer – Sinclairs Group)
3.    Theodoros Tsouknidas (Cardiff and Vale College / Employer – Nationwide Crash Repair Centre Cardiff)
Heavy Vehicle Engineering Final 2016 results
1.    Shaun Richards (Scania (GB) Ltd / Employer – Scania Heathrow)
2.    Dean Carter-Pilgrim (MAN/S&B Automotive / Employer – Cordwallis Heathrow)
3.    Shaun Cousins (DAF Trucks, City of Bristol College / Employer – Ford and Slater Leicester)
Winner of the Bonnet Design Competition
Christopher Jones (Cardiff and Vale College / Employer – Sinclairs Group)
-END-
Full list of IMI Skill Auto 2016 finalists:
Skill Auto Body Repair
Hayden Forrester; trained at Gateshead College; employer: Excel Body Repairs
Harry Devine; trained at Chesterfield College; employer: Body Motor Works
Justin Mahon; trained at: Southern Regional College; employer: Kevin Connolly Car Sales
Lewis Owers; trained at: Thatchams; employer: Nationwide Gladwins
Shawn Dyson; trained at: Chesterfield College; employer: Chartwell
Michael Sanlon; trained at: Transport Services; employer: Trust Ford
Skill Auto HV Engineering
Jack Burt; trained at Volvo/Stephenson College; employer: Volvo Trucks (Broxburn)
Dominic Scott; trained at Volvo/ Stephenson College; employer: Volvo Trucks (Enfield)
Dean Carter-Pilgrim; trained at MAN/S&B Auto Academy; employer: Cordwallis Heathrow
Shaun Richards; trained: Scania (GB) Ltd; employer: Scania Heathrow
Taylor Yuill; employer: Scania (GB) Ltd; employer: Scania (Grangemouth)
Shaun Cousins; employer: DAF Trucks, City of Bristol College; employer: Ford and Slater Leicester
Skill Auto Refinishing
Christopher Jones; trained at Cardiff and Vale College; employer: Saintclairs Group
Theodoros Tsouknidas; trained at Cardiff and Vale College; employer: Nationwide Crash Repair Centre
Tom Harris; trained at: Davies Motor Company; employer: N/A
Michael Massey; trained at: Chesterfield College; employer: Alton Cars Ltd
Kirsty Ashley; trained at: Nova Training; employer: Concept Refinishers Ltd
Daniel Appleby; trained at: Trained 2000 Limited; employer: JD Macadam & Sons
Skill Auto Technology
Walter McElroy; trained at: South West College; employer: Western Cars
Eoin McCloskey; trained at: Northwest Regional College; employer: Desmond Motors
Gareth Murphy; trained at: South West College; employer: Carmanic
Harry Garraway; trained at: VW Group Apprentice Programme; employer: Heritage VW Van Centre
Brett Gibson; trained at: Jaguar Land Rover Academy; employer: Hatfield Land Rover
Ryan Kane; trained at: South West College; employer: Connellys Volkswagen
Media enquiries
For media enquiries please contact:
Wendy Harrison,
HSL | Managing Director
Email: wendy@harrisonsadler.com
Tel: +44 (0) 2089 779 132
Mob: +44 (0) 7850 372 469