Published:

10:12, 27 Jul 2015

Updated:

12:13, 11 Aug 2015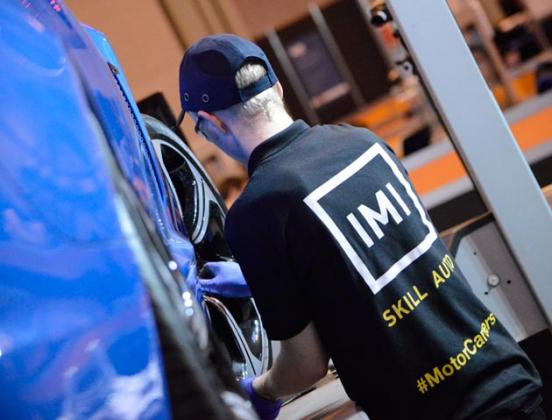 IMI Skill Auto competitors are heading to Birmingham NEC on the 19-21 November for the final of the competition. 18 finalists will compete for gold at the UK Skills Show in Auto Refinishing, Auto Tech or Auto Body.  Around 100,000 people are expected to visit the UK's largest careers event, which provides a world-class platform for the nation's talented individuals to compete, as well as giving visitors the chance to explore vocational career opportunities.
The Skill Auto competition area will feature the super-sonic, Bloodhound SSC, which will attempt to break the 1,000mph barrier next year, as well as vehicles from Jaguar Land Rover, VW, Kia and Toyota. For the first time ever, IMI Skill Auto will also showcase a heavy vehicle competition area consisting of 6 tasks demonstrating the high level of skills required to work on modern trucks.
Many high profile companies join sponsors Wurth, Morelli, GTG and Car-o-Liner in supplying the tools and equipment for the apprentices, ensuring the competition will be a cutting edge display of careers in the sector.
IMI CEO Steve Nash said,
"The IMI Skill Auto competition final at the Skills Show provides an excellent opportunity to showcase automotive apprenticeships and attract the next generation to our sector. Thanks to our sponsors and the hard work and support of training providers around the country, the thousands of young people visiting the show will see the very best our sector has to offer. With skill shortages on the increase, this event demonstrates the importance of apprenticeships and the standard of training required in the motor industry. The 4 competitions are fantastic examples of what you can achieve in the automotive sector with hard work and dedication. I am sure everyone will join me in wishing them the best of luck at the competition."
With previous Skill Auto competitors heading to the WorldSkills Competition in São Paulo, Brazil, in August – the event allows individuals to demonstrate their technical abilities both individually and collectively to a global audience.
2015 SkillAuto finalists:
Auto Tech
Connor McGaughey, South West College-Omagh and Kelly's Garage
Seamus Goodfellor, South West College-Omagh and Ballina Car Auto Repair
Brett Gibson, Jaguar Land Rover and Hatfield LR Pickering
Aaron Cousins, South Eastern Regional College and Halfords
Ben Brown, North Warwickshire and Hinckley College
Scott Thompson, South West College-Enniskllen and Wilsons Garage
Auto Refinishing
Jonathan McNaugher, Riverpark Training and Nigel Whanns ARC Ltd
Jake Brewster, Chesterfield College and Joe Black's 8Ball
Adam Litchfield, Cardiff and Vale College and NSW Accident Repair
Joe Hughes, Cardiff and Vale College and P&R Motors
Alex Neagle, Cardiff and Vale College and P&R Motors
Kyle Saunders, Coleg Gwent
Auto Body
Daniel Baker, Babcock and Chartwell
Andrew McClure, Riverpark Training and Wrights ARC Dundonald
Andrew Spiers, Riverpark Training and Wrights Accident Repair Centre
Andrew Gault, Riverpark Training and Glenn Allen Car Body Repair
Darrin Foster, Southern Regional College and Porter's Body Shops Ltd
Matthew Barnicott, Colleg Llandrillo Menai and Birmingham Garage
For media enquiries please contact:
Emma Mitchell, PR & Communications Officer
Email: emmam@theimi.org.uk
Tel: +44 (0) 1992 511521
Mobile: +44 (0) 7889 630 803
Notes to Editor
About IMI
IMI is the professional association for individuals working in the motor industry, and the authoritative voice of the sector.
IMI is transforming the automotive industry by setting, upholding and promoting professional standards - driving skills acquisition, establishing clearer career paths, and boosting public confidence.   IMI's online Professional Register is here to make sure consumers are in skilled, competent and trustworthy hands.
Please visit www.theimi.org.uk to find out more.
Follow us on Twitter: @The_IMI
Find us on Facebook: www.facebook.com/theimipage
Media enquiries
For media enquiries please contact:
Wendy Harrison,
HSL | Managing Director
Email: wendy@harrisonsadler.com
Tel: +44 (0) 2089 779 132
Mob: +44 (0) 7850 372 469