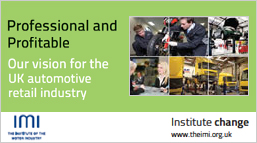 The automotive retail sector is vital to the smooth running of the UK. It is at the heart of the economy, keeping more than 35.3 million UK-registered cars, motorcycles and trucks on the road, transporting goods, people and services.
The industry is a substantial wealth generator for the UK. In 2010, automotive supply, retail and servicing employed over 500,000 people. Skilled trades comprise a much higher proportion of the workforce when compared to UK industry generally.
However, the current economic and employment climate pose many challenges to the sector and the IMI are committed to working with employers and individuals to provide help and solutions to improve their effectiveness, profitability and provide value for consumers.
The IMI's manifesto – Professional and Profitable, 'Our vision for the UK automotive retail industry' outlines the IMI's vision for the UK automotive retail industry, the challenges ahead and how we can work together to overcome them.
In order to do this, we are committed to continuing our work of providing the sector with the support it needs to address the five key challenges it faces:
changing public perception and increasing consumer confidence
attracting and retaining talented individuals
ensuring that the current and future skills needs of the sector are met
ensuring the sector has the skilled leaders and managers it needs to drive change
understanding the business benefits of upskilling the workforce
Download the document in the 'downloads' section to find out more.