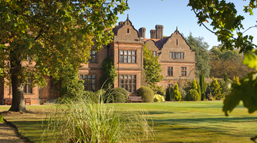 Fanshaws is the serene venue for your next meeting. As the home of the IMI, Fanshaws offers space for conferences, exhibitions and training facilities as well as quiet and tranquil outdoor space.
Jacobean character home steeped in history in the heart of the Hertfordshire countryside.
Versatile spaces, ideal for meetings, networking and corporate events.
Stunning cuisine provided by local chefs with the freshest of seasonal produce available.
Our heritage
The existing Fanshaws house only dates back to the 19th Century but the estate itself has a long and colourful history. Originally the land was owned by Waltham Abbey, housing the monasteries until their dissolution by King Henry VIII who granted it to John Knighton. It passed to the Ferrers family in 1635 following the marriage of their eldest daughter to Thomas Fanshawe; it then passed to the family whose name the house still bears. The Fanshawe line died out in 1694, the land passing through a variety of owners until it was purchased by Henry Saunders in 1881. Saunders commissioned Fanshaws House to be built, which was completed in 1885 and let to the Barclay banking family in 1888.
Our facilities
To find out more about our unique business conference centre venue, call us to arrange a tour:
Tel:+44 (0) 1992 511 521