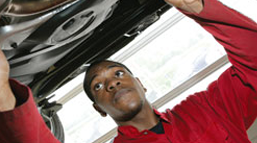 An Apprenticeship is a real job with training so you can earn while you learn and pick up recognised qualifications as you go. If you live in England, are over 16 and not in full time education you can apply. They take between one and four years to complete and cover 1,500 job roles in a wide range of industries.
Key benefits
earn a salary
get paid holidays
receive training
gain qualifications
learn job-specific skills.
Facts in numbers
Over 80% of those employers who employ apprentices agree they make their workplace more productive.
81% of consumers favour using a company which takes on apprentices.
The National Minimum Wage for apprentices is £2.73 per hour. Many employers prefer to pay more however, and research shows that the average salary is approx £106.47 per week.
Employers who take on a 16-18 year old apprentice only pay their salary. The Government will fund their training.
There are more than 250 different types of Apprenticeships available offering over 1,400 job roles.
92% of employers who employ apprentices believe that Apprenticeships lead to a more motivated and satisfied workforce.
83% of employers who employ apprentices rely on their Apprenticeships programme to provide the skilled workers that they need for the future.
One in five employers are hiring more apprentices to help them through the tough economic climate.