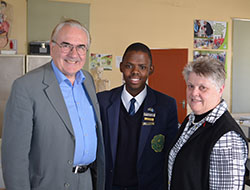 Anne Maclean, Managing Director of MSLA's input as received today:
"The Maths & Science Leadership Academy (MSLA) is a non-profit organisation that has been running maths & science programmes for learners with potential from poor backgrounds in Kimberley since 2007 with great results. The organisation currently operates from a very small campus in Kimberley, which is home to 280 Grade 9 – 12 learners participating in the maths & science programmes.
The organisation also runs a maths problem-solving programme for 300 Grade 4 – 6 learners and 400 Grade 7 – 12 learners, as well as 30 teachers.
De Beers has donated land in Kimberley to the organisation to build a very innovative 21st century STEM education centre – "Opportunity Island" (OI) which will enable the organisation to extend its impact throughout the Northern Cape Province to areas where it is needed most.    
The heart of OI will be the state-of-the-art school that will address the inequalities in education and provide talented learners from poor areas throughout the province with access to world class education, with special focus on maths and science.
While the Opportunity Island facilities will serve the planned state of the art school, the organisation aims to use these facilities creatively for various other educational purposes, including serving as a teacher training school linked to the new Sol Plaatjie University in Kimberley and as a support centre for schools in the remote areas of the Northern Cape Province.
The establishment of OI in Kimberley will serve to grow the pool of students who have the necessary skills, knowledge and values to become future professionals and leaders who are passionate about STEM and the growth of a more prosperous and greener Northern Cape Province."
Jakkie's input for consideration:  "The RMI is committed to promoting STEM skills in South Africa.  The week of 6-9 May 2015 saw Automechanika taking place in Johannesburg.  During this week RMI and its industry partners offered learners from in and around Johannesburg opportunity to attend.  The 2015 "Rewards Just Ahead' Conference and 3- Motor Skills Competition Prize Giving Ceremony held on the 9th May 2015.  The conference constitutes the closing ceremony of the 3- Motors Skills WorldSkills and Open RMI Artisan of the Year competitions, which is a joint initiative by the Automotive Industry- to showcase the skills competitions as a means of 'creating an awareness of automotive industry careers amongst our youth' and attract new talent to the automotive sector.  Our Organization has actively over the past three years introduced industry stakeholders to the MSLA.  Louis van Huyssteen, our regional manager for the Free State and the Northern Cape, normally accompanies representatives. The Northern Cape Province, such as other provinces in South Africa, in dire need to interest young people in science and mathematics as subjects of choice to further studies in technology and automotive.  Dave Rowley, Education Director of the Bloodhound SSC project, has an office at the MSLA and we value his work with the learners and promoting the automotive industry as a career of choice.  At the skills conference Dave presented on 'Why design a car to travel 1400km per hour?  Making maths, science and technology exciting in the classroom" at the skills and training conference.  Dr Paul Spear and  Mr Herbert Lonsdale respectively presented on "Apprentice Return on Investment  (ROI) calculator – recipe for employer rewards" shared the IMI's objectives in promoting world-class skills training and make the automotive industry attractive to the youth.  The RMI has donated, and we will continue to do so, copies of our monthly magazine, the Automobil, to the MSLA.  Our objective hereby is to make hardcopy literature to learners available to take home and show parents and elders that the automotive and retail motor industries indeed offer exciting career opportunities."