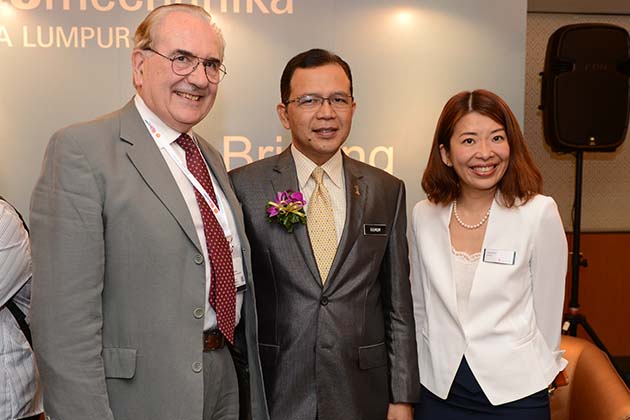 Early last year, it had signed a Memorandum of Understanding (MOU) with Malaysia's Ministry of Education (MoE) to provide training support across a network of community colleges with the aim of enhancing the skills of 1,000 automotive training candidates by the end of 2014, particularly focusing on electric and hybrid vehicles.  
Kepala Batas Community College's Technology Centre for Hybrid and Electric Vehicle and Pekan Community College are among the colleges which have begun the process last year to train and equip technicians with new skills and knowledge relevant to energy-efficient vehicles (EEV) by offering IMI's internationally-recognized qualifications and accreditations.
Addressing the skills gap
"The IMI has had a long and valued relationship with the education ministry here as well as with other education providers. We are dedicated to continue working with the Malaysian government to help address the automotive skills gap that exists in Malaysia, especially in the EEV market", said Steve Scofield, IMI's Head of Business Development, who was in Kuala Lumpur recently to meet with senior officials of the MoE.
With him in the visit to Malaysia was Herbert Lonsdale, IMI's International Business Development Manager. The IMI representatives were here to assess the requirements of existing IMI approved centres as well as meet with key automotive organizations, to further discuss how vocational training and accreditation can positively influence Malaysia's automotive industry.
"With the emerging technologies arising in the automotive sector such as hybrid and electric vehicles and more recently, driver-less cars, there is a need for technicians and service personnel in this sector to acquire new skills and knowledge that meet global standards and the requirements of these new technologies. Our collaboration with the education ministry underlines our commitment to continue to ensure that the community colleges will be a channel for them to obtain the suitable training", added Lonsdale.
Around the world
As a leading automotive body that helps improve professional standards for the retail motor sector, IMI qualifications are offered by more than 13 countries around the world, which means that candidates gain certifications recognized in other geographies as their career progresses. Currently, the IMI has 24 approved centres in Malaysia to offer qualifications and accreditations and these comprised of community colleges, automotive companies like Peugeot distributor, Nasim Sdn Bhd and educational bodies such as the Otomotif College.
"With Malaysia's rapid economic development, we see a strong potential for growth for the automotive sector here especially in the after-sales segment as car purchasers need to ensure their cars are well maintained. The IMI will continue to invest in the Malaysian automotive sector by promoting professional skills and development of the population in both technical and non-technical disciplines, to produce an empowered workforce that is internationally recognized", ended Scofield.