Published:

10:37, 19 Nov 2013

Updated:

10:37, 19 Nov 2013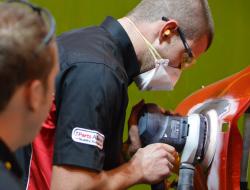 The UK's best young automotive talent in the fields of Autobody, Autopaint and Autotech competed for gold at the final of the IMI SkillAuto competition which took place at The Skills Show held at the NEC Birmingham from 14th–16th November.  Over 100,000 visitors attended the show, which provides a platform for the best of the nation's young talent to compete in 70 fields, including the three represented in SkillAuto, as well as giving visitors the chance to have a go at new skills and gain careers advice.
Eighteen competitors took part in the SkillAuto final, after battling through an online test stage and live heats against competitors from all over the country.  Organised by the Institute of the Motor Industry (IMI), SkillAuto is a national competition which seeks to find the best young automotive technicians in a knockout competition.  The competitor's skills were put to the test over two days, where their expertise in their chosen fields were judged by industry experts in front of a live audience.  At the end of the competition Gold, Silver and Bronze winners were announced.
Darrell Delaney, an Apprentice from Norfolk Motor Company Kia won the Gold medal in AutoTech, Matthew Bailey, from RGM Vehicle Body Repair in Swansea, won Autobody gold, whilst the top prize for Autopaint went to James Grayson of S&G Coachworks Chesterfield. Bentley has also invited the winners to tour their facility in Cheshire.
David Massie, the IMI's Skills Competition Manager, said: "SkillAuto showcases the very best young talent within our industry and the standard at this year's exciting final was extremely high.  All of the finalists demonstrated the highest levels of technical expertise under intense pressure and in my mind they all deserve to be winners.  This UK-wide competition is an important showcase for apprenticeships in the motor industry and I have no doubt that it has inspired a whole new generation to consider a career in our exciting sector." 
The main sponsors for this year's SkillAuto competition were IMI Awards, Würth, Morelli,
Car-O-Liner, Nova Verta and GTG Training.  To find out more about SkillAuto and career opportunities in the motor industry please visit www.autocity.org.uk.
Ends
SkillAuto finalists & winners:
Autotech
Gold Darrell Delaney (Norfolk Motor Group Kia) - England
Silver Ryan Banks (Rowes Honda) - England
Bronze Elliott Byers (Ian Grieve Subaru) - Scotland
Damien Robinson (Crown Garage Soham) - England
Michael Collins (Donnelly Brothers VW) - Northern Ireland
Turlough Lennon (Ridgeway Land Rover) - England
Autobody
Gold Matthew Bailey (RGM Vehicle Body Repair) - Wales
Silver Jordan Thomas(TWK Thomas & Sons) - Wales
Bronze Andrew McDonald (P.J McLaughlin Auto Body) - Northern Ireland
Carlo Cipriani (Arnold Clark) - Scotland
Lewis Lloyd (BP Rolls Group) - Wales
Mark McCarron (Monaghan Brothers) - Northern Ireland
Autopaint
Gold James Grayson (S & G Coachworks) - England
Silver Keiren Jones (Nationwide Crash Repair Centre) - Wales
Bronze Martin Inglis (Kinghorn Body Shop) - Scotland
Jack King (Nationwide Crash Repair Centre)-  England
Anthony Miotti (JM Motors) - England
Leon Ivin (Magor Motors) - Wales
Media enquiries
For media enquiries please contact:
Wendy Harrison,
HSL | Managing Director
Email: wendy@harrisonsadler.com
Tel: +44 (0) 2089 779 132
Mob: +44 (0) 7850 372 469