Published:

12:17, 12 Jan 2017

Updated:

14:20, 2 Feb 2017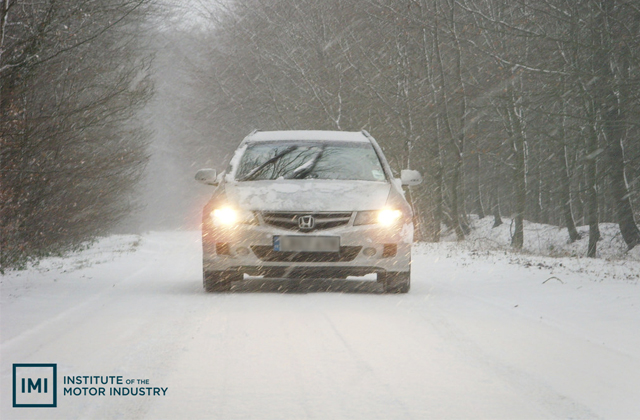 With the UK gripped by a drop in temperatures, the Institute of the Motor Industry (IMI) is warning motorists of the dangers of not keeping their vehicle well maintained.  Research** conducted by the professional body for the retail motor industry found that 15% of drivers don't get their car serviced regularly because they're afraid of spiraling costs; 24% only get their vehicle repaired when its due for its MOT.  
IMI CEO, Steve Nash, believes an attitude of apathy to vehicle maintenance or distrust of vehicle mechanics makes drivers more vulnerable in the winter months.  "Many people ignore basic faults on their vehicles because they don't know how to handle them or they fear garages will take advantage of their lack of knowledge.  However, the cost of not carrying out important checks and getting your car regularly serviced could be considerable.  
"The quality of tyres and brakes really come into their own when driving in heavy rain, fog and ice.  But if the vehicle hasn't been serviced recently or the tyres checked, who knows if they will be up to the job if sudden braking is required."
The IMI Professional Register (www.imiregister.org.uk) helps motorists find properly qualified and trustworthy local professionals who they can rely upon to ensure their safety and their family's safety.
Winter Driving Tips
The IMI has also provided a few handy tyre tips for winter driving:
Check pressure regularly
Colder temperatures affect tyre pressures. Too much or too little air pressure will affect performance and durability, as well as increasing the chances of tyres being punctured - especially when exposed to bumps, potholes or unexplained dangerous objects on the road. When checking tyres, always refer to the driver's handbook or look on the inside of the fuel-filler / door shuts for the exact pressure requirements for your car. It's also worthwhile investing in a digital tyre pressure gauge, as they're typically more accurate than those found on petrol station forecourts. Ideally, check your tyre pressures at least once a week as part of your car maintenance or cleaning routine.
Check for cuts and bulges
A simple check on each tyre is all you need to spot problematic cracks, cuts or bulges in the sidewall or tread. Should you notice any type of damage, or discover whilst driving that the steering wheel vibrates or the tyres slip when accelerating, braking and cornering - address these concerns with a local expert listed on the IMI Professional Register. Equally important is checking your spare tyre - you never know when you may need it.
Measure tread depth
The tread of the tyre helps to disperse the water on the road and reduce the chance of your car aquaplaning when driving in wet conditions. Whilst the legal minimum tread depth is 1.6mm, many industry experts suggest replacing tyres when the tread depth reaches 3mm or lower in order to stay safe. Tread wear indicators, which are used to visually inspect the tyre tread for wear, are typically located in the main tread grooves.  Checking tread on a monthly basis as part of your car tyre maintenance plan will increase performance and avoid possible prosecution.
Keep balanced and aligned
Wheel balancing prevents premature wear to components of the suspension, the steering and wheel bearings. Wheel balancing can also affect the steering (normally felt by the driver as a vibration) and improve the comfort of your vehicle for both driver and passengers. One of the best times to have your wheels balanced is when you are replacing tyres, especially tyres that will see you safely through the winter. It's also important to check that your car wheels and axles are correctly aligned; if not, your car could pull to the left or right, cause wearing of the tyres, and compromise you and your passengers' safety. Both wheel balancing and wheel alignment problems can normally be solved quickly, so visit a specialist listed on the IMI Professional Register if anything appears troublesome.  
* http://www.bbc.co.uk/weather/2635167#outlook
** 2000 adults with driving licences - September 2014
Media enquiries
For media enquiries please contact:
Wendy Harrison,
HSL | Managing Director
Email: wendy@harrisonsadler.com
Tel: +44 (0) 2089 779 132
Mob: +44 (0) 7850 372 469