Published:

14:45, 4 Apr 2013

Updated:

10:00, 8 Apr 2013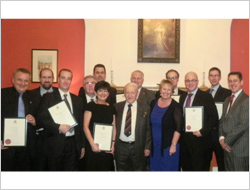 Ten NatWest automotive specialists have further demonstrated their professionalism by joining the Instute of the Motor Industry (IMI). The specialists are part of the bank's team that works exclusively with motor retailers, looking at investments in small and medium businesses.
The automotive team at NatWest is keen to promote the benefits of IMI membership to its specialist staff. These include the opportunity to forge even stronger connections with their target audience and to gain access to industry-specific training though the IMI's comprehensive CPD portfolio.
Membership certificates were presented by IMI Chief Operating Officer Linda Stansfield and Education Programme and Partnership Manager Adrian Lawson during a special lunch at the Child and Co private bank.
Bridgeen Stone MIMI, Head of Motor Retail at NatWest, commented:
"As the leading bank for small and medium enterprises, NatWest is committed to providing sector specialist banking services to its customers.  The motor industry is one such sector and we have a national team looking after our automotive commercial businesses.  With the IMI as the leading body within the sector we were keen to develop an association to help deepen the knowledge and expertise of our Relationship Managers as part of our accreditation programme. We are the only bank with independently accredited Relationship Managers – accredited by Chartered Banker.
"Membership of the IMI is enabling our people to access training and resources that will improve our own knowledge and understanding of the sector, allowing us to serve our customers better.  We are excited by the opportunities for professional development that the IMI offers, as well as the credibility that our affiliation will bring to our customer relationships. We view this as the start of a long-lasting and mutually beneficial relationship with the IMI."
Commenting on the arrangement with NatWest, IMI Chief Operating Officer Linda Stansfield said:
"We are extremely excited to have the automotive team at NatWest onboard with IMI membership, as we feel their commitment to professionalism is a perfect match for the IMI's vision for the automotive retail sector. We hope this will be the start of a long and fruitful relationship and look forward to supporting their work in our industry in any way we can."
Media enquiries
For media enquiries please contact:
Wendy Harrison,
HSL | Managing Director
Email: wendy@harrisonsadler.com
Tel: +44 (0) 2089 779 132
Mob: +44 (0) 7850 372 469