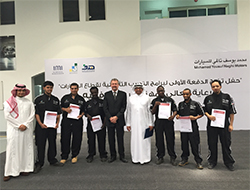 Addressing Nationalisation and preparing the Saudi youth with up to date industry skills was paramount. With the support from JLR, BMW, and Hyundai, product specific programmes were developed.
'Quality and professionalism' were the key words delivered at the inception of the programme by Mr. Siraj Malibari the Director of the MYNM Training Academy .Given that brief, MYNM contacted The Institute of the Motor Industry to be its strategic partner to develop MYNM to be the first 'IMI Approved Centre' in Saudi Arabia.
Pictured at the recently held graduation event held in the Technical and Vocational Training Corporation facility in Jeddah, are some of the first Group of JLR apprentices proudly holding their IMI certificates. They are part of a group of 68 apprentices who have graduated from the MYNM programme this year. Far left in the picture is Mr. Hussam Yamani (IMI Assessor), center left Mr David O'Neill (Centre IV and programme manager) and next to him is Mr. Siraj Malibari (MYNM Training Academy Director).
During the graduation ceremony, Mr. Malibari congratulated the JLR apprentices on being the first group in Saudi Arabia to achieve the IMI qualification and also mentioned that the success of these programmes has been measured by not only their qualification achievement, but also the acceptance of the apprentices into the commercial workplace.