Published:

09:16, 30 Oct 2013

Updated:

09:50, 30 Oct 2013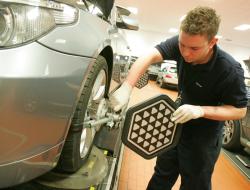 The Institute of the Motor Industry (IMI) has announced that ATA Fast Fit and Fast Fit Service Technician are the latest IMI accreditation to receive an update and redevelopment in order to reflect the latest developments in vehicle technology. In the most significant change, the IMI will replace the Fast Fit Technician levels 1 and 2 accreditations, with two unique level 2 accreditations - the first aimed at mobile fast fit technicians and the second at fast fit centre technicians. The changes are due to the increasing skill levels needed in order to service modern and high end vehicles.
In particular, The IMI has indentified the increased use of diagnostic equipment and recent developments in four wheel alignment technologies as major areas which have influenced the new look accreditations. These developments have come alongside the increased availability in volume production vehicles of technologies which were once confined to the prestige segment.
Companies involved in the redevelopment and piloting of the new ATA Fast Fit accreditation, which was part funded by UK Commission for Employment and Skills (UK CES), included Formula 1 Auto Centres, Kwikfit and ATS Euro Master. Anyone undertaking ATA Fast Fit accreditation, for the first time or for reaccreditation, will need to be aware of new skills requirements in the assessment process from October 2013 onwards.
Speaking about this development, IMI Accreditation Manager Ian Gillgrass commented:
"The changes to ATA Fast Fit are illustrative of the challenges facing the whole automotive sector. Put simply, no matter what your level or area of speciality in workshop, you will find yourself facing a rapid onrush of technological developments in modern vehicles. These developments have pushed the skill needs of the fast fit sector to new levels which needed to be reflected in our accreditations if they are to represent currently competent individuals."
You can find out more about ATA fast fit on the IMI's dedicated ATA website at http://ata.theimi.org.uk. All ATA accredited individuals are also now listed on the IMI's Professional Register as an additional benefit.
Media enquiries
For media enquiries please contact:
Wendy Harrison,
HSL | Managing Director
Email: wendy@harrisonsadler.com
Tel: +44 (0) 2089 779 132
Mob: +44 (0) 7850 372 469