Published:

12:39, 11 Jan 2017

Updated:

14:11, 17 Jan 2017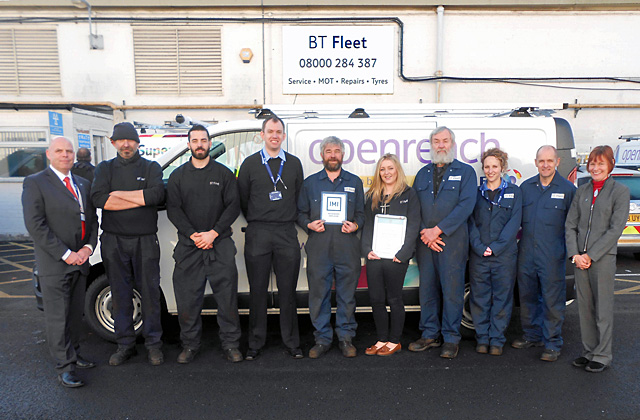 As BT Fleet strive to demonstrate Professional Competence of all of their 600 plus technicians across their 65 garages, Chester, Chessington (pictured) and Inverness workshops, along with Norwich are the first to gain the Employer Recognition Scheme in their regions.  
The Employer Recognition Scheme at Inverness garage was presented by BT Fleet Garage Network Managing Director, Henry Brace, and Director, Mark Wolfe.
Henry Brace said "I am delighted to announce that with 70% of our technicians now signed up as IMI Members, the IMI Employer Recognition Scheme is a great way to demonstrate our technician's professional competence to our customers."
About the IMI Employer Recognition Scheme
Developed by the IMI in response to the growing demand for an independent sign of quality and professionalism in the automotive industry, the IMI Employer Recognition Scheme demonstrates your employees' expertise, knowledge, commitment to ethical conduct and continuing professional development. To join the Scheme, a minimum of 50% of your staff must be on the IMI Professional Register. For more information please follow the link on the right-hand side of the page.
Media enquiries
For media enquiries please contact:
Wendy Harrison,
HSL | Managing Director
Email: wendy@harrisonsadler.com
Tel: +44 (0) 2089 779 132
Mob: +44 (0) 7850 372 469