Published:

13:08, 30 Oct 2015

Updated:

16:38, 30 Oct 2015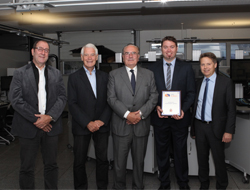 As an Approved Centre they will provide IMI Qualifications and Quality Assured Programmes to their international customer base.
Their expertise covers a very broad range of vocational and professional topics, so not just automotive, but all the areas that require electrical or electronics skills.  They even build the furniture and laboratory infrastructure that is used by their clients to provide world class training.
 
Lucas Nulle expectations of direct certifications are relatively modest; around 100 in the first year, but this could be the start of something big, explains Daniel Brown Manager of the LN Training Academy.
"Delivering certified training is something new for us but we have already created a lot of excitement amongst our customers. Now that they know they can come to Germany and get training on the latest equipment on the latest technology and go home with a high quality, highly valued certificate from the IMI.
 
"We wanted to develop our products into packages that would make it much easier for our customers to become IMI Centers themselves. We can guide our customers from all around the world to go through the process and supply them with all of the material and expertise that they need to "Plug and Play" the different IMI Qualifications.
"This is the part that gets me excited and I expect that we'll begin to see many more international centers joining the IMI with thousands of candidates coming through the system, which can only be a good thing for automotive training standards worldwide."
Media enquiries
For media enquiries please contact:
Wendy Harrison,
HSL | Managing Director
Email: wendy@harrisonsadler.com
Tel: +44 (0) 2089 779 132
Mob: +44 (0) 7850 372 469