Published:

15:47, 9 Mar 2016

Updated:

16:01, 11 Mar 2016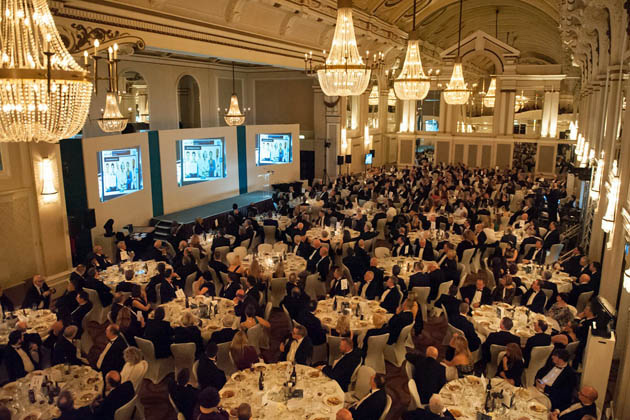 Guests were joined by former England rugby player Will Greenwood, one of Britain's most successful marketeers Tony Ball MBE and his son Michael Ball OBE, and British racing driver Vicki Butler-Henderson.
Debuting the long-awaited 'Driving Change' series, in partnership with ITN Productions, that explores four key areas that are re-shaping the motor industry was showcased to over 400 industry figures during the evening.
This year's prestigious Sue Brownson Award for outstanding leadership in the motor industry went to Richard Burden MP, Labour's MP for Birmingham Northfield, for his commitment to the industry's advancement. Last year's winner, Joe Greenwell, picked up an Honorary Fellowship of the IMI, as did Beverly Bell.  
The IMI also singled out three individuals for their outstanding contributions to the sector in the awards categories. Paul Killingsworth, from PK Automotive was recognised for his contribution to the work of the IMI, whilst National Association of Motor Auctions (NAMA) was recognised for their contribution to the motor industry. Tony Ball MBE also picked up an award for his individual achievement in the sector following his successful career from an apprentice to launching the legendary MINI in the swinging 60's.
Steve Nash, IMI CEO, took the opportunity to discuss licensing vehicle technicians, as well as encouraging industry leaders to consider employing an apprentice to support the government's ambitious target of creating 3 million new apprenticeships by 2020.
Steve Nash commented:
"The IMI believes strongly in the need for the licensing of technicians working in the motor industry; which is quite a tough sell to a vehemently anti-regulation government who are already challenged to deliver on a manifesto which doesn't include this..!  However, whilst maintaining our longer term aim, we believe the priority must be for the licensing of individuals working on electric and hybrid vehicles.
With the current rate of advancement in technology and the demand for electric vehicles continuing to increase, a situation where literally anyone can set themselves up to work on such cars is clearly unsustainable and potentially dangerous."
Award winners:
Outstanding Individual Achievement – Tony Ball MBE FIMI FCIM FCGI
Contribution to the Motor Industry – National Association of Motor Auctions (NAMA)    
Contribution to the work of the IMI – Paul Killingsworth AAE MIMI
Honorary Fellowship of the IMI – Beverley Bell
Honorary Fellowship of the IMI - Joe Greenwell CBE
Sue Brownson Award - Richard Burden MP
Thank you to this year's dinner sponsors:
Premier sponsor: Safe & Sound
Drinks reception sponsor: Enterprise
And: Continuum Insurance, Cyber-Duck, S&B Automotive Academy, Snap-on and Allianz Global Assistance.
Media enquiries
For media enquiries please contact:
Wendy Harrison,
HSL | Managing Director
Email: wendy@harrisonsadler.com
Tel: +44 (0) 2089 779 132
Mob: +44 (0) 7850 372 469