Published:

16:44, 7 Sep 2015

Updated:

16:45, 7 Sep 2015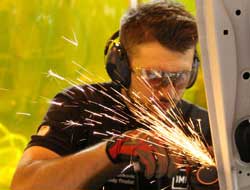 The Assessed Outcome Module (AOM) has evolved due to demand from bodyshops wishing to maintain the BSI standard as it evolves to BS10125. The new AOM will allow individuals within the accident repair sector to prove competence in modern joining techniques (bonding and mechanical fasteners).
BSI requires a technician's certification of competence to audit against BS10125, and according to BSI it must 'align to the national occupational standards (NOS) and be quality assured by an Awarding Organisation and renewed every three years'.
PAS125 will cease to exist on 31 December 2015, being surpassed by BS10125. BSI is currently converting bodyshops from PAS125 to BS10125.
David Taylor IMI Awarding Product Development Specialist said:
"IMI has responded quickly to the demands of the industry for a new module to ease the transition from  (PAS) 125 to the new BSI standard. It's a stand alone module too that makes it more flexible and time and cost efficient for busy bodyshops."
Media enquiries
For media enquiries please contact:
Wendy Harrison,
HSL | Managing Director
Email: wendy@harrisonsadler.com
Tel: +44 (0) 2089 779 132
Mob: +44 (0) 7850 372 469