Published:

15:25, 13 Feb 2013

Updated:

13:02, 20 Jun 2013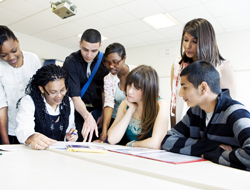 The Institute of the Motor Industry's (IMI) Headlight Competition has launched for its fourth year and will once again be sponsored by the Jaguar Land Rover Academy, who are donating a first prize for the winning team in each age category. The winning teams and their teachers will receive a tour of the Land Rover Heritage Museum and a 4x4 off-road experience.
Headlight is the exciting schools project developed by the IMI in conjunction with specialist teachers through the National Schools Partnership (NSP) that includes a series of free creative curriculum-linked teacher and student resources, with the motor industry as the exciting backdrop. The resources help young people understand how a complex business functions and attain key curriculum objectives, particularly for business and enterprise related courses.
The competition element of Headlight challenges students to create a new car and design a marketing plan for its launch; including unique selling points, target markets and integration of existing or new technology. This year for the first time an additional entry category has been added allowing teams to enter a 16 – 19 year old college category as well as the original 14 – 16 year old secondary school category.
Through the Headlight project, the IMI aims to develop strong relationships between schools and the UK automotive retail network, as well as increasing awareness of the exciting opportunities for young people within the sector by giving them an insight into the automotive world.
Dr. Adrian Birch Phd, Manager of Training Systems and Young People at Jaguar Land Rover Academy said, "There is a very real need to get young people interested in the motor industry. Too often the sector is not considered, because there is little understanding of the opportunities within it and the progression that's possible for young people as their careers develop. Headlight gives just that; young people are exposed to the industry in the context of their usual curriculum activities increasing interest and, in turn, potentially increasing recruitment of young people into the sector at a later stage."
Headlight resources and more information on the competition is available at www.autocity.org.uk/headlight or from headlight@motor.org.uk
2013 Headlight Competition Judges
Dr Adrian Birch Phd, manager of Training Systems and Young People at Jaguar Land Rover Academy
Steve Nash BA (Hons.) FIMI, Chief Executive Officer at the Institute of the Motor Industry
Jacqui Nelson, Director at Nelson Croom
Media enquiries
For media enquiries please contact:
Wendy Harrison,
HSL | Managing Director
Email: wendy@harrisonsadler.com
Tel: +44 (0) 2089 779 132
Mob: +44 (0) 7850 372 469